Tucked away in the popular community of 2nd Street in Holetown, St. James, you'll find The Mews. The 'not so typical' restaurant showcases a unique layout that's a true time capsule of traditional Barbadian architecture and its preservation allows for guests to sit in a truly quaint environment. Enjoy the view and your meal on the balconies overlooking the active nightlife below, the interior courtyard, private dining rooms, or the quirky nooks and crannies scattered about this one of a kind gem.
Inside the kitchen, you'll find a team championed by new Executive Chef Anife Best, who has put his personal spin on the Euro-Caribbean cuisine that the restaurant is known for with a focus on 'farm-to-table' fine dining. As a locally owned restaurant, the Mews celebrates flavours of Barbados with fresh, local ingredients and produce all sourced in Barbados.
The Mews offers a Farm Fresh Special Menu that is curated based on that availability of fresh produce. You'll find delicacies such as the Pickled Codfish or Local Pumpkin Soup along with Mahi Mahi Aglio e Olio or Clifton's Pork Chops. From their traditional menu, you'll find starters such as Lemon Butter Scallops & Shrimp and Confit of Duck, sumptuous entrées including Curried Rabbit and even a 28 Day Aged Grilled 10 oz Ribeye Steak … and if you can still fit dessert, we'd recommend the Sticky Caramel Bread Pudding or the Chocolate Tart with warm Coffee Ganache.
In addition to promoting Farm-to-Table fine dining and an overflowing wine list, guests will enjoy a wide variety of local art on display throughout the restaurant featuring spectacular pieces by local artists. If you're looking to be entertained, look no further as you'll be serenaded by local musicians and artists as you enjoy your meal…. especially on Friday night when you'll be guaranteed live entertainment in any season.
The Mews is an excellent choice for a night out, as 2nd Street becomes 'the spot' to 'lime'. With quite a few bars in the area, 2nd street has a great night life with The Mews at the heart of the action.
Other than the festive season in Barbados (take a peek our winter getaways), November is one of our favourite times of the year as we celebrate Independence Day and a plethora of fun activities. If you love the water, November offers the Barbados Open Water Festival and the Live Like Zander Junior PRO WSL (World Surf League) & Thomo QS 1000 WSL.
The Barbados Open Water Festival
This annual event and draws locals and visitors alike from all countries to take part in this fun, five-day competition. Check out last year's blog where we interviewed veteran competitor Amanda Garcia – Property Manager of luxury villa Crystal Springs. This year, participants can take part in practice swims, optional dinners, and four races. If you're staying on the  South Coast, Sapphire Beach condominiums are close to the action and lots of fine dining and entertainment options.  We highly recommend checking out the nightlife in "The Gap" as well.
Dates: 6th Nov 2019 – 9th November 2019 | Location: St. Michael
World Surf League Live Like Zander Jr Pro and the WSL (World Surf League) Thomo QS 1000
This event is very near and dear to our hearts as it's held in honour of  Zander Venezia and Bill Thomson. The World Surf League (WSL) Junior is in loving memory of Zander while the homo 2019 QS 1000 in loving memory of Bill. Held at the famous Soup Bowl in Bathsheba, the event is always exciting and, a great opportunity to rub shoulders with the local Barbados community.
Dates: 7th November 2019 – 10th November 2019 | Location: St. Michael
Here are your new weekend plans so let's get Ready, Set and Surf in Barbados! Socialising included!
*Photos compliments Global Swim Series and Barbados Surfing Association.
We're all guilty of making those last-minute travel plans but with winter right around the corner, you'll want to forget the freeze and stay warm at any of our stunning holiday rentals. From our intimate beachfront retreats to fully staffed luxury villas, you can decide on luxury your way.
Hemingway House
Tucked away between the serenity of Gibbes Beach and the highly popular Mullins Beach, Hemingway House is a beautiful two-story retreat that boasts unique vantages of the ocean and is ideal for families or groups. View Availability
Sugar Hill – Illusion
A luxurious villa situated in the exclusive Sugar Hill community, Sugar Hill-Illusion wows with its grand sweeping staircase leading down to the impressive pool and fantastic view to sea. View Availability
Sugar Hill – Sunwatch
Sunwatch is a luxury 6-bed room villa, set atop a majestic ridge overlooking the platinum West Coast of Barbados. View Availability
Palm Beach 405
Offering guests breezy open-plan living against a backdrop of white sand beach and turquoise ocean, Palm Beach 405 is situated on Barbados' South Coast in a prime beachfront location. View Availability
Leith Court 16
Enjoy lazy days on the beach and all the comforts of home at Leith Court 16. Shopping restaurants and the famous St. Lawrence Gap are all within walking distance. View Availability
–
Barbados beckons! Get the details on these and more of our most coveted vacation villas available for the Christmas and New Year by viewing the special here!
Rose in hand and toes in the sand.
We have all been in anticipation about what is happening on Mullins Beach for several weeks now. At last, The Sea Shed has arrived and has opened its doors.
Barefoot chic with an element of rustic luxury, this new seaside venue will offer a European-Caribbean beach club vibe with fresh foods inspired by French and local traditions.
"Sea to Slate" is the philosophy of this new trendy spot which simply means bringing fresh fish from the sea to your plate. Catch of the day? Yes please.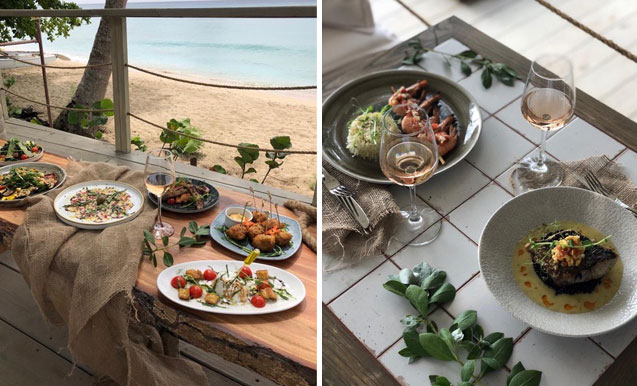 Other dishes include fresh lobster and octopus, stone-oven pizza, lasagna and the all time favourite burger, just to name a few. Mouthwatering cocktails and fine wines can also be found here.
Well known, Chef Jeremy Dupire is at the helm of this place and with him he brings a wealth of knowledge, talent and whole-hearted dedication to ensure an unforgettable food experience for you.
Beach service opens from 10am and includes beach loungers and umbrellas. The restaurant opens from 12noon and takes reservations up to 8pm daily. Closed on Tuesdays.
It's new. It's sexy. And the food is to-die-for.  A must try!
For reservations – (246) 572-5111
Facebook – Sea Shed Barbados
Instagram – seashed_barbados
Photo compliments The Cliff Beach Club
Sunday is now our favourite day of the week! The Cliff Beach Club has made us fall in love all over again with a fresh and timeless way to relax and while the day away. Lunch at the Beach Club features a live band and quite frequently a fashion show hosted by the in-house boutique.
Consistent with The Cliff's well-established standard you'll pull up to valet parking and a warm Bajan welcome from the friendly hostess. We'd recommend arriving at least 30 minutes early so you can enjoy a drink from their cliff-top bar as you admire the 180-degree panoramic view as the bar's backdrop. After you pick your jaw up off the floor from the sheer magnificence of the view, we'd recommend enjoying a few specialty cocktails crafted by expert bartenders.
Photo compliments The Cliff Beach Club
Eclectic Ambiance
Best described as a mixed pot, few do it as seamlessly as The Cliff Beach Club. Its massive metal chandelier installed over the bar area is arguably the focal point of The Beach Club. Housing a combination of coastal, modern and African details, the restaurant is certainly unique. Spread out across three-tiered levels no matter your choice of seating you will experience uninterrupted views of the sea.
Vibes and more vibes
After a Sunday here, you'll be walking with more pep in your step…or a wobble…depends! Lively and upbeat the Beach Club puts on quite the show. Boasting a mixed crowd of locals, repeat guests and newbies, the atmosphere is always friendly and your glass is never empty – their attentive staff sees to that!
Photo compliments The Cliff Beach Club
Mouthwatering Cuisine
Much like its 5 Star sister restaurant, The Beach Club offers world-class culinary delights and decadent desserts. Their a la carte options ensure there's something for everyone. Spicy lobster risotto and the octopus carpaccio give life to the menu while classics such as battered cod and chips provide soul comfort.
Bringing to life the perfect mix of fun and food, The Cliff Beach Club has developed a winning recipe. A 'must visit' while on the island, The Cliff Beach Club will never disappoint.
With the holiday season fast upcoming, shopping is quite a polarising topic: some love it, others…well… not so much. As a Blue Sky Luxury Villa guest, you can design your personal shopping experience however you want to. There is no reason why you should be worried about where to find what you're looking for or how you'll get there and back to your holiday getaway.
Relax at Porters Villa
Shopping 'til you drop
Although Barbados is a small island and nothing is truly "far", location is a key consideration for most guests. Apartments like Sapphire Beach and Leith Court are close to major shopping hubs such as Bridgetown and Lanterns Mall. Holidaymakers on the West Coast can opt for shopping in historic Speightstown or Holetown, home of luxury amenities. Depending on the size of your party, Glitter Bay Apartments are a mere 15 mins drive away. For those who prefer a bit more privacy, stand-alone villas such as Jamoon in Sandy Lane, Porters Villa, and Tom Tom provide luxury and comfort. Just tell your Concierge what you hope to pick up and we'll do the rest. An experienced driver can take you from your villa to every boutique, souvenir shop, and mall and even make a stop for a breezy seaside lunch.
Photo compliments Shutter In Motion
In-villa private shopping & Duty-free shopping
For those who do not want to get caught up in the hustle and bustle, all of your shopping can be done from your poolside chaise lounge…with a perfectly chilled cocktail. Browse online or from a catalogue and we can find and arrange an in-house showing of it all! Duty-free shopping is offered across the island. Just be sure to take your airline ticket and passport with you when you're out and about making your purchases.
A trip to local French bakery La Baguette left me speechless – with only one word to describe the quick but delightful experience…Magnifique! As I sit here demolishing the last of my delicious Almond Croissant (ok last of two! I had to have another one) Let me give you the rundown, here's why you should visit this charming French bakery in Barbados.
Hundreds of "Little yellow" and " Cloudless sulphur" butterflies flitted around for at least half a mile as we drove along, a drive made that much more enjoyable by the sunny, almost perfect weather. La Baguette located in Porters, Holetown, is within walking distance of the historic Porters Villa, Limegrove Lifestyle Villa, a number of Blue Sky Luxury villas and other luxury amenities. What was quite notable was the curb appeal of the property. Local foliage dotted the perimeter, with green palms positioned to the front of the building, which was painted white with a jaunty blue trim outlining the peaked roofs. Notably, there was wheelchair access and upon entry…cooling, refreshing air conditioning.
The first thing that teased the senses was the delicious scent of baked goods, now we all know that's a hard one to beat…unless accompanied by the aroma of fresh, flavourful coffee…. yes, they also serve coffee! Having been my first time to the establishment I took a time to decide between the pain au chocolat, chocolate twist or raisin and almond croissants. I chose the almond croissant (I'm done now by the way and yes, I'd like another!) and took note of other delicious selections, such as chocolate cookies, multi grain bread or country bread…which all appeared so scrumptious! I gave the interior one last sweeping look. It is an intimate atmosphere with perfectly tiled floors and gleaming white countertops. My colleague, who knows the owners quite well, bid them Au revoir (She's a regular, little did I know!) and we set off to another modern cafe in nearby Holetown.
Unable to wait I took my first bite of my almond croissant in the car and was blown away. Lightly sweet, perfect texture and balanced by crunchy fresh almonds. My taste buds were in heaven! Now here I am, totally in love with La Baguette and urging you to visit this amazing French Bakery in the heart of Porters, St. James. Au revoir!
Most of us can admit to the occasional social media indulgence. We are either scrolling through timelines, searching for post inspiration or curating the perfect shot. It is no wonder then that social media has become a travel buddy. After all, if you don't post awe-inspiring shots of your island getaway, did it really happen?
With a number of jaw-dropping homes in our portfolio, perfect for Instagram photos, this week we are highlighting 5 villas that are true #InstaGoals.
Royal Westmoreland  – Happy Days, Emily House and Ocean One 502 are sure to garner a double-tap and your friends will stop scrolling through their timeline once they come across photos of you at Porters Villa – a historical masterpiece. Then there is Tom Tom, an elegant holiday villa enjoying sweeping Caribbean Sea views and known to stir up feelings of wanderlust.
Check out these 5 villas that will make you the envy of your followers!
3 bedrooms | 3 ½ bathrooms | Sleeps up to 6 guests
What you'll love:
The instagrammable hidden oasis with the manmade lake or ocean view as your backdrop
On site tennis courts, resort pool and fitness centre so you'll never miss a #gymlife moment!
Golf course in close proximity
7 bedrooms | 6 ½ bathrooms | Sleeps up to 14 guests
What you'll love:
A place where luxury and unique details, particularly the 'Lighthouse' design are accentuated by gorgeous ocean views
Shallow pools and bay just along the low cliffs from the garden
3 bedrooms | 3 bathrooms | Sleeps up to 6 guests
What you'll love:
Shared Jacuzzi and communal and children's pool
Stunning sea views from living areas and patio
Find the blue that best suits you and walk from the pool to beach in seconds
5 bedrooms | 5 bathrooms | Sleeps up to 10 guests
What you'll love:
Loads of #photooftheday options with meals by the on-site cook with a repertoire of international cuisine
One of the most spectacular infinity-edge pools with a stunning view of the Caribbean Sea. Get your camera ready
Two amazing gazebos for games, cocktails and breezy dinners
3 bedrooms | 3 bathrooms | Sleeps up to 6 guests
What you'll love:
Nestled on a centuries-old estate property with onsite chapel, oozing with old world charm but with modern interiors
Foodie bliss compliments the resident cook
Speightstown, one of the four pillar towns on the island, encompasses everything from relics of British military history to contemporary fine dining restaurants. This presumably laid back town also has quite a bit to offer in terms of good shopping, banks, sidewalk vendors as well as excellent casual dining options. Not to mention Holetown, which is also a great shopping and dining area, is located just a short 15 minute drive away.
Near to this unspoilt little town is the absolutely palatial Leamington Pavilion, a stunning holiday home with all the trims and fancies to create lasting memories and Fustic House, the most prolific of these historic homes we are fortunate enough to feature in our holiday homes portfolio.
Also, another fabulous option Nelson Gay, is a Palladian-style coral stone beauty located on the outskirts of Speightstown and Schooner Bay a complex of elegant apartments within walking distance whose terraces and patios provide beautiful views over the pool and onward to the beach and Caribbean Sea!
View all of our luxurious homes: Barbados