It is no secret that Barbados' West Coast has a reputation for great food and impeccable service. Choose formal dining rooms or relaxed beachfront eateries. There is something for everyone. It is a known fact that the staff at Blue Sky Luxury love to eat! We have rounded up five of the best restaurants in Barbados and got candid dining reviews. Check out their list of recommended dishes from the top restaurants in Barbados. We hope our restaurant reviews help you to decide which Barbados West Coast restaurants you need to visit in 2022!
In no particular order, here are the top picks:
Sea Shed
The Lone Star Restaurant
The Tides
Bearded Rose
Baia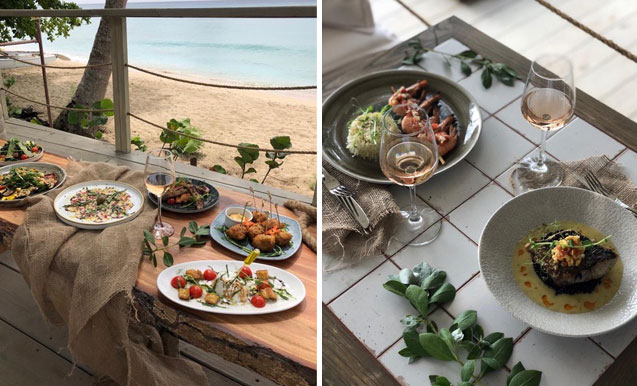 Laissez-fair beach vibe
To start the ball rolling, our Managing Director, Tania, reminisces.
"I absolutely love Sea Shed. It's the perfect blend of a relaxed, beachy atmosphere paired with great meals and bites. I love the Octopus Carpaccio – so beautiful and always fresh!" 
Idyllic setting, celebrity clientele
An obvious favourite, the offerings at Lone Star Restaurant have made their way into many a heart. (We mean stomach.) It is safe to say there were too many to choose just one for this post. The team suggests ordering the Moules Mariniere, Chicken Tikka Masala, Prawn Thai Green Curry, or Shredded Aromatic Duck.
Follow these recommendations and you are definitely in for a treat!
Top fine dining restaurant
"I have personally enjoyed at least two decadent meals at The Tides. Fish has always been a favourite of mine, and the Pan Fried Flying Fish at The Tides does not disappoint. The service as well is worth mentioning. Absolutely impressive!"
This rave review compliments Shernelle, our Concierge Manager, when detailing her experiences at the charming establishment.
Eclectic taste and exceptional cuisine and cocktails
Alexis, our Brand Manager, states in no uncertain terms about The Bearded Rose…
"A must-visit! Welcoming hosts, contemporary decor, and mouthwatering fare were the highlights of my dining experience. The Wagyu Beef Sliders were a trio of magic, second only to the fresh, delectable Yellowfin Tuna Tartare. Would I go back? Absolutely!" (Alexis loves food. We believe her.)
A journey of the senses
Last but not least, this review was submitted to us by Rachel McCartney, Leader of Brokerage at our sister company, Terra Luxury. New hotspot Baia is located in the historic Speightstown.
"It is honestly so refreshing to have a difference in the cuisine in Barbados – as it is Peruvian. The food is consistently good. The Beef Short Rib is melt-in-your-mouth, next-level awesome!"
Which one of these tantalising restaurants would you like to visit? 
Get ready to start planning trips…
Stay in touch, we love to hear from you!
Direct Barbados: 1.246.622.4466
Freephone UK: 0800 0885574
Toll Free US/CND: 1 866 404 9600
Email: experts@blueskyluxury.com
Go back to our website