Barbados, with its excellent connectivity to various Caribbean islands, becomes the perfect destination for those seeking a beach escape without enduring lengthy layovers. If you're yearning for the ideal getaway from reality, now is your opportunity to embark on an affordable trip to Barbados that won't strain your finances. Join us as we delve into the realm of budget-friendly getaways, where we uncover the secrets to experiencing the beauty of Barbados without compromising your wallet. So come along, and let's explore the possibilities of an unforgettable journey to this Caribbean paradise.
Virgin Atlantic inter-island flights
Looking to explore the captivating wonders of Barbados? Look no further, as Virgin Atlantic presents a convenient and comfortable option with their flights connecting Barbados to various destinations in the region. Exciting news awaits! Recently, Virgin Atlantic has introduced new inter-island flights in the Caribbean that link Barbados to other neighbouring countries. These flights operate on specific days, offering both convenience and affordability. Here's a sneak peek: Beginning June 14th, 2023, you can embark on an exciting journey with Virgin Atlantic from St. Vincent to Barbados and Grenada to Barbados. These flights are scheduled twice a week, departing from St. Vincent to Barbados on Wednesdays and Sundays and from Grenada to Barbados on Tuesdays and Saturdays. From October 2023, the flight frequency from St. Vincent to Barbados will increase to three times a week, on Mondays, Wednesdays, and Sundays. Economy fares start as low as US$307. So sit back, relax, and savour the breathtaking views during this scenic journey. With their patient and helpful approach, Virgin Atlantic ensures that every passenger receives exceptional care throughout the entire experience.
Regional Flights to Barbados
Barbados serves as an excellent hub for travellers seeking a seamless beach getaway, with convenient connections to various Caribbean islands. Apart from the newly introduced Virgin Atlantic flights, there are other alternatives available. Let's explore these additional travel options to make your journey to Barbados even more effortless. 
Caribbean Countries that have direct Flights to Barbados:
When it comes to reaching Barbados, the good news is that several Caribbean islands offer direct flights. If you're planning a trip to Barbados, here are some popular Caribbean countries with direct flights, along with their average airfares:
Antigua and Barbuda: Average airfare: US $350.00

Bahamas: Average airfare: US $450.00

Dominica: Average airfare: US $300.00

Grenada: Average airfare: US $250.00

St. Lucia: Average airfare: US $300.00

Jamaica: Average airfare: US $550.00

Guyana: Average airfare: US $712.00

St. Vincent and the Grenadines: Average airfare: US $350.00

Trinidad and Tobago: Average airfare: US $360.00
Caribbean Countries that have connecting flights to Barbados:
However, if you are not from one of the mentioned Caribbean countries, no worries! There are several other Caribbean countries that offer connecting flights to Barbados. Here is a list of some of those countries along with the average airfares:
Aruba: Average airfare: US $400.00

Cuba: Average airfare: US $400.00

Dominican Republic: Average airfare: US $500.00

Puerto Rico: Average airfare: US $350.00

Turks and Caicos Islands: Average airfare: US $400
These average airfares are approximate and can vary depending on specific dates and airlines.
Airlines Serving the Caribbean from Barbados
To facilitate your journey to Barbados, several airlines cater specifically to Caribbean travellers. Here are some options to consider:
Book Your Stay
Book your stay with us at Blue Sky Luxury, we offer exceptional services and stunning properties for your staycation. Whether you choose a beachfront villa or a ridge retreat, you'll have the opportunity to immerse yourself in the vibrant culture and natural wonders of the Caribbean. Let Blue Sky Luxury take care of every detail, ensuring your staycation is seamless and unforgettable. So why wait? Book your Caribbean staycation with Blue Sky Luxury today and get ready for an experience unlike any other.
Beds: 1| Baths: 2 | Guest: 3
Guest Review:
My daughter and I were incredibly impressed with our condo at Waterside 402! Unlike surrounding hotels, our lovely apartment was exceedingly quiet and private. Shakelia was very prompt in answering whenever we had questions, and the security guards were always helpful when summoning cabs for us. All in all, staying at Waterside was a delightful experience!!!
Beds: 3 | Baths: 3.5 | Guests: 6
Guest Review:
by 
Michelle
 on 
07/14/2023
A beautiful house with an amazing chef Nicole. The beach was stunning but there was lots of hidden coral so it hurts to walk in. However, it is the most picturesque beach you can find, beaches with less coral were bland compared to this one. It's a long walk to Holetown and the humidity will put you off but the good news is the reggae bus is every few minutes and is only BBD 3
Beds: 2 | Baths: 2 | Guests: 4 
Guest Review:
The apartment was excellent & the décor beautiful, it had everything needed for our stay, Glitter Bay itself has one of the best beaches and is a perfect base to explore the south and north of Barbados. The facilities in the apartment and onsite staff who we met were wonderful & helpful, particularly being able to reserve a sunbed for the stay, Rocky who managed the beds was excellent, just knowing there will be no rushing in the morning to get a place beachfront makes that stay even more relaxing, they offered beach towels fresh every day at the beach hut. The little bar at the front with some nice daytime snacks and drinks, and service to the sunbeds too which was fabulous, I didn't have to move. The apartment was immaculate, the beds and furnishings comfortable, really beautifully chosen furnishings complementing everything inside and really enhanced your stay and offers great energy and vibration to the apartment, felt safe and comfortable and includes additionals too like snorkelling equipment, plenty of contact numbers for taxis and very close to some beautiful restaurants, a telephone to book in the apartment, and walking distance to the lovely Lone star restaurant too. This accommodation is definitely great value for money and is the ideal place for families, friends and couples, really does cover all groups, with fantastic management and contact leading up to and during the stay. Thank you for our stay and we hope to be back again soon!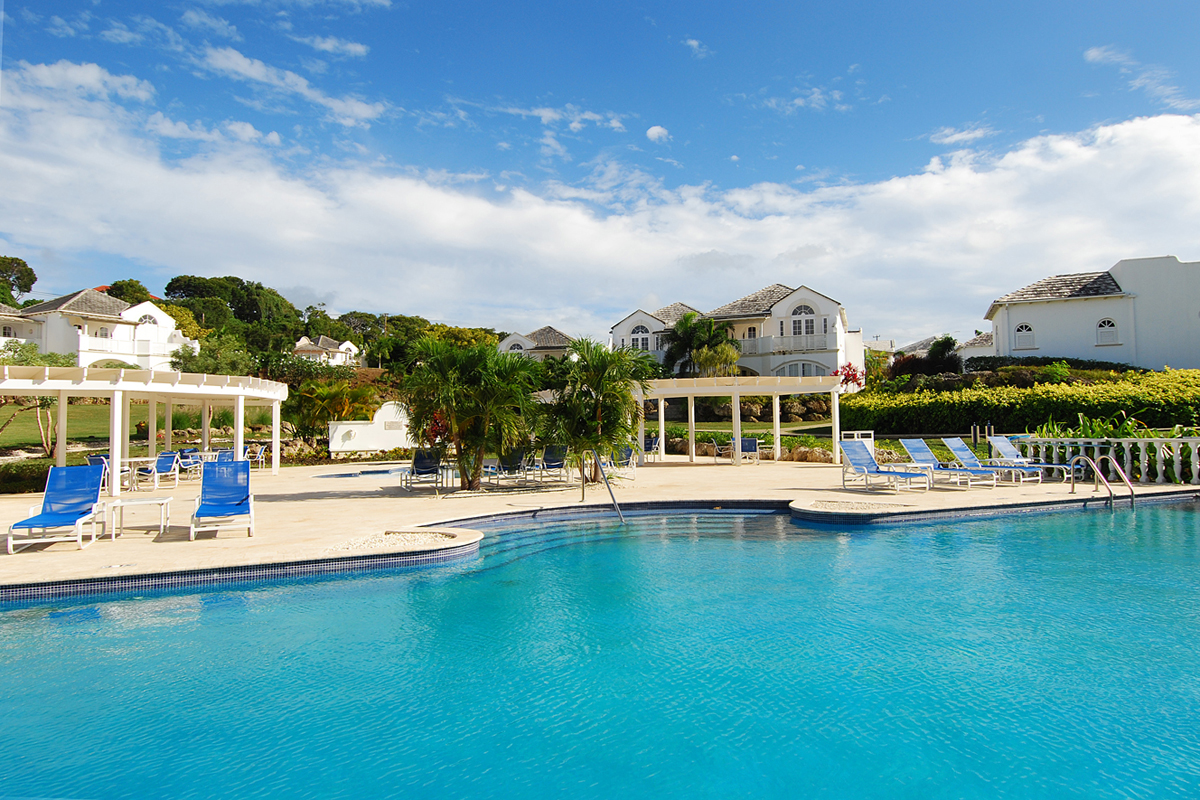 Royal Westmoreland – Forest Hills 30
Beds: 3 | Baths: 3.5 | Guests: 6
Guest Review:
by Smiths on 01/25/2023
I recently had the pleasure of staying at Forest Hills and it exceeded all my expectations. From the moment I arrived, I was greeted by warm, friendly staff who were attentive to my every need throughout my stay. The villa itself was beautiful. I enjoyed spending my days by the pool. It was an incredible holiday experience.
Stay in touch, we love to hear from you!
Direct Barbados: 1.246.622.4466
Freephone UK: 0800 0885574
Toll-Free US/CND: 1 866 404 9600
Email: experts@blueskyluxury.com
Go back to our website
Recently renovated with bursts of colour to enhance its Caribbean flavour, High Trees sits at the end of a shady driveway and has direct access to the well-known Gibbes Beach, on the prestigious West Coast. A low sea wall providing privacy has two gates that conveniently lead onto the beach.
The welcoming entry foyer, which also serves as a sitting area, leads through French doors to an expansive covered patio where guests can enjoy cool, tropical drinks or casual dining. Take in a little sun on comfortable lounge chairs by the pool deck, meander through the lovely gardens to an open-air terrace by the water's edge, or enjoy al fresco dining by the beachfront gazebo.
The master suite opens onto the enticing pool deck. Two bedrooms also have direct access to the pool deck and are connected by an en suite bathroom. A fourth guest suite, positioned to the left of the entry foyer, shares the south wing with a well-outfitted kitchen, leading to an outdoor terrace overlooking the beautiful gardens.
High Trees is within walking distance of Mullins Beach and a brief drive to Speightstown and Holetown, where an array of services and nightlife are available. This holiday villa is an excellent choice for families or groups of friends wishing to enjoy a relaxing Barbados vacation and is great for small weddings and celebrations.
Read our guests reviews:
by Simon on 11/16/2022
We loved High Trees. Comfortable, great location and two of the best hosts in Barbados. Thank you Cherrel and Deborah!
by The Spotswood Family on 02/16/2020
This was our fourth time here. We had such a great time. We feel relaxed, refreshed and rejuvenated. Charal and Deborah were as wonderful as ever and we look forward to coming back again. See you next time.
by The Blume Family on 01/27/2020
Here for a graduation trip for my daughter and had the best time! The entire experience was fabulous. Property was beautiful and well taken care of. Deborah and Charal knocked it out of the park – we've never been treated better. Such a special spot and can't wait to come back. So beautiful here! Hard to leave. Until next time….
In this blog post, we will take you on a journey through the rugged and scenic east coast of Barbados, showcasing its natural beauty and hidden gems. While the west coast of Barbados is well known for its luxurious resorts and calm waters, the east coast is a completely different experience that should not be missed.
The Wild and Scenic East Coast
The east coast of Barbados is a majestic coast with a wild. untamed beauty. While world-famous for surfing, most of the beach is unsuitable for swimming. Locals know where the tide pools are and often relax and watch the fish when the tide is low. One of the most popular destinations on the east coast is Bathsheba, a picturesque village that is home to the famous Soup Bowl – a world-renowned surfing spot. Here, you can watch surfers ride the waves or take a surf lesson yourself.

Another must-visit location is the Andromeda Botanic Gardens, where you can stroll through lush gardens and marvel at exotic plants.
Hidden Gems
While the east coast of Barbados has many popular destinations, there are also some hidden gems that are worth exploring. One of these hidden gems is the village of Cattlewash, a quiet and secluded spot that is perfect for those who want to get away from the crowds.
Here, you can walk along the beautiful beach or take a dip in the natural rock pools. Another hidden gem is the Morgan Lewis Windmill, a historic landmark that is one of the last remaining sugar mills on the island.

The Culture
One of the best parts of visiting the east coast of Barbados is experiencing its vibrant culture. The locals are friendly and welcoming, and the food is delicious. Don't miss out on trying some of the traditional Bajan dishes, such as flying fish and Cou-Cou, or sipping on a refreshing rum punch. You can also learn about the island's history by visiting St. Nicholas Abbey, a beautifully restored plantation house that dates back to the 1650s, or take a train ride there.
A journey through the east coast of Barbados is a must-do experience for anyone who visits the island. From its rugged and scenic terrain to its hidden gems and vibrant culture, there is something for everyone to enjoy. So grab your camera, put on your hiking boots, and get ready for an adventure of a lifetime in Barbados.

Stay in touch, we love to hear from you!
Direct Barbados: 1.246.622.4466
Freephone UK: 0800 0885574
Toll Free US/CND: 1 866 404 9600
Email: experts@blueskyluxury.com
Go back to our website
Are your friends trying to convince you to visit Barbados, but you are not sold on the trip? Check out our five reasons why Barbados should be your next vacation destination. 
It's easy to get to Barbados
In most cases, Barbados is just a flight away and is one of the most easily accessible islands in the Caribbean. For North American visitors, direct flights leave cities including Miami, New York, Boston, or Toronto bound for the Grantley Adams International Airport (BGI) and arrive in five hours or less. Our friends in Europe, fear not, as direct flights depart most major cities including London, Munich, and Manchester. 
PS: Barbados also caters to private jets and yachts. Dedicated private hangars and ports provide entry to the island.
The Rum
Barbados is the Birthplace of Rum. Is this a reason to visit? Yes. We do believe so!
Tours are available at Mount Gay Rum Distillery, St. Nicholas Abbey, and Foursquare Rum Distillery and will allow you to fully immerse yourself (not only) in the rum-making process but in a bottle or two! Barbados has four rum distilleries currently in operation:
The Heritage
Historic Bridgetown and its Garrison join an elite and protected list of heritage sites like the Great Barrier Reef, The Great Wall of China, and the Taj Mahal. 
Cit by UNESCO as "an outstanding example of British colonial architecture consisting of a well-preserved old town built in the 17th, 18th and 19th centuries, which testifies to the spread of Great Britain's Atlantic colonial empire. The property also includes a nearby military garrison which consists of numerous historic buildings. With its serpentine urban layout, the property testifies to a different approach to colonial town-planning compared to the Spanish and Dutch colonial cities of the region which were built along a grid plan."
Come journey through the streets of Bridgetown, explore the Blackwoods Screw Dock, tour the Nidhe Israel Synagogue & museum, the oldest synagogue in the western hemisphere. Visit the Barbados Museum and The Garrison Savannah. Both places have knowledgeable and interactive tour guides on the UNESCO World Heritage Site walking tours. 
The Food 
Barbados is considered the culinary capital of the Caribbean. If food is your passion, join us in October 2023 for the Barbados Food and Rum festival and embark on the gastronomy tour of a lifetime. The cuisine in Barbados is exceptional. The influence of British, African, Irish, and Creole with adaptations from India is hard to duplicate. 
Barbadian classics include Macaroni pie, roast breadfruit, fish cakes, pudding and souse, and our national dish Cou-Cou and flying fish. If you do nothing else you MUST visit Oistins Bay Garden. You will find fresh fish, community, and local entertainment.
The Beaches
The island has over 70 pristine beaches with miles of crescent-shaped white sand and is world-renowned as some of the most beautiful beaches in the world. 
Popular spots include Silver Sands Beach- famous for kite surfing. Rockley Beach on the south coast connects to the boardwalk and offers great swimming options.
Travel to Sunset Crest and Mullins Beach on the west for swimming, snorkeling, and catamaran cruises.
If you wish to unwind and bask in the sun or gain an adrenaline rush with watersports, then Barbados is the place for you. 
Contact us to book your Barbados vacation!
Stay in touch, we love to hear from you!
Direct Barbados: 1.246.622.4466
Freephone UK: 0800 0885574
Toll Free US/CND: 1 866 404 9600
Email: experts@blueskyluxury.com
Go back to our website
Curious about the term "villa" as it relates to vacation rentals?
A villa experience (in Barbados) typically refers to renting a private luxury estate with expert staff, impeccable interiors and a host of on-site luxe amenities. Villas can also encompass a less lavish experience however the premise is that the villa is private to you and your guests. Whereas with a hotel it is a shared experience with multiple guests on the same floor.
How do you book a villa?
It is best to trust a reputable company that has been in the villa rental business for over 20 years. Having trusted international and local affiliates is also a good sign. A good villa rental company will have an authentic website and a reservations department where you are able to chat online or send an enquiry. When booking a villa, here are some easy steps to follow:
Visit

blueskyluxury.com

to start your search.

From the home page enter your arrival and departure dates, total guests and number of bedrooms needed.

Once your search results are returned you can book directly online from the property you choose or send an enquiry to an agent. (Booking online is secure, all credit card information is encrypted.)
Ok! So you are booked. No bell man? No front desk? No restaurant? Hotels have staff available to assist 24/7 and offer a wide range of services such as: room service, housekeeping, and concierge services. What does a villa have?
Many high-end luxury villas have staff such as butlers, chefs, housekeepers and laundresses for the duration of the stay. Concierge & Guest Services and Property Managers are also on hand to make the experience more convenient and luxurious. The concierge offers a more personal and customised vacation experience by arranging fast track, groceries, meals and activities before you even arrive. Property Managers are on call 24/7 in case anything goes wrong at your villa. You will always feel secure as a Guest Services Agent will check with you at your convenience to ensure that all is well. Some holidaymakers prefer to dine out or make use of fully-equipped kitchens. It's a great option to either plan menus with your chef or to cook on your own. 
What can I expect when I arrive? 
Hope you like rum punch! In some villas the staff will meet you on arrival with a beverage and give you the grand tour. Expert staff members will let you in on any insider information to make you feel more welcome in your home away from home. Welcome packs have lots of information on the island as well as contact numbers in case of any emergencies.
Privacy and independence: Villas typically offer more privacy and independence than hotels, as they are separate, self-contained properties.
Loads of space: Villas usually have more living areas than hotel rooms, which can be especially beneficial for families or groups of friends travelling together. In most cases a villa be double the space of a hotel room.
Outdoor space: Many villas have outdoor areas such as a pool or a patio, which can be great for relaxing and enjoying the beautiful weather in Barbados. Private gardens offer a relaxing oasis for barbecues or a space to rejuvenate in absolute peace.
Amenities: Depending on which villa you choose, like hotels, villas can have a wide range of amenities like swimming pools, fitness centers, and spas.
Ultimately, the choice between a villa and a hotel will depend on your personal preferences and the specific needs of your trip. We recommend trying the villa life at least once, you won't regret it. You have all the privacy of your home while enjoying the beautiful scenery and luxurious amenities of Barbados.
Written by La Toya Louizon,
Holiday Rentals Manager
Blue Sky Luxury, Barbados
Stay in touch, we love to hear from you!
Direct Barbados: 1.246.622.4466
Freephone UK: 0800 0885574
Toll Free US/CND: 1 866 404 9600
Email: experts@blueskyluxury.com
Go back to our website
Traveling along the South Coast of Barbados? We're sharing a few historical sites that you can visit and learn more about the history of Barbados.
Top 5 Historical South Coast Sites

The Barbados Museum

– This historic site was the home of a former British Military Prison. The prison was constructed in 1817. In 1930 it became the home of the Barbados Museum and Historical Society. After your visit, a 5-7 minute walk takes you to

The Garrison Savannah

.
Insider's tip: Public transportation runs on this route from the South and the West Coast.
George Washington House

– Barbados was the only country visited by the 1st President of the United States of America. See artifacts, medical equipment, and many other fascinating historical items. A tour of George Washington House offers a journey back in time to showcase life 250 years ago. Our next stop is the Main Guard House and Clock Tower at

The Garrison Savannah

– a 2-minute walk. 
Insider's tip:  Stop by the giant Barbados flag for a photo opp, take the children to the playpark or relax on a picnic bench.
The Garrison Savannah

in Barbados is home to many treasures. Visit the islands' collection of 17th-century English iron cannons, the Main Guard House, and the Clock Tower. See the change of sentry at noon or experience horse racing. The annual horse racing event is an authentic local experience where you can try sno-cones, hot, crispy fish cakes, and enjoy lots of activities. An 11-minute walk takes you to our next spot:

The Barbados Military Cemetry
Insider's tip:  A network of tunnels was discovered in 2012. These tunnels are open to the public for tours. For our next stop, you take the scenic beach route to visit and arrive at The Barbados Military Cemetry. 
As You Continue Your Journey…
The Barbados Military Cemetery

is the resting place of the Commonwealth Armed Forces and members of the Defense Force. A walk to this site is breezy and relaxing as it is along the beachfront. At the site, the earliest grave was recorded in 1822. However, the cemetery itself has been in existence since c1780. Take a break, grab a drink at La Cabane, then head over to

Needham's point lighthouse
Insider's tip:  Go for a quick swim at La Cabane South. Swimming is much safer and, you can have a refreshing cocktail at the beachfront eatery. You can dine here or have something light at Cuzz's fish shack if you're heading out for dinner later
Needham's Point lighthouse

is the final stop of our Barbados walking tour. The lighthouse is open to the public and is another picturesque spot for photography. It's actually the second oldest lighthouse in Barbados. Interested in visiting all the lighthouses on the island? Explore South Point, Ragged Point and Harrison Point. End your day at La Cabane or enjoy calm swimming steps from Cuzz's Fish Stand.
Insider's tip: Visit Cuzz's spot for an iconic fish cutter. Freshly caught local fish sandwiched in a soft and pillowy "salt bread" gives a true taste of Barbadian fare. A 2-minute walk will take you to public transportation where you can visit Bridgetown for shopping.
We hope you enjoyed our Barbados walking tour send us a note on where you like us to visit next!
Stay in touch, we love to hear from you!
Direct Barbados: 1.246.622.4466
Freephone UK: 0800 0885574
Toll Free US/CND: 1 866 404 9600
Email: experts@blueskyluxury.com
Go back to our website
It is no secret that Barbados' West Coast has a reputation for great food and impeccable service. Choose formal dining rooms or relaxed beachfront eateries. There is something for everyone. It is a known fact that the staff at Blue Sky Luxury love to eat! We have rounded up five of the best restaurants in Barbados and got candid dining reviews. Check out their list of recommended dishes from the top restaurants in Barbados. We hope our restaurant reviews help you to decide which Barbados West Coast restaurants you need to visit in 2022!
In no particular order, here are the top picks:
Sea Shed
The Lone Star Restaurant
The Tides
Bearded Rose
Baia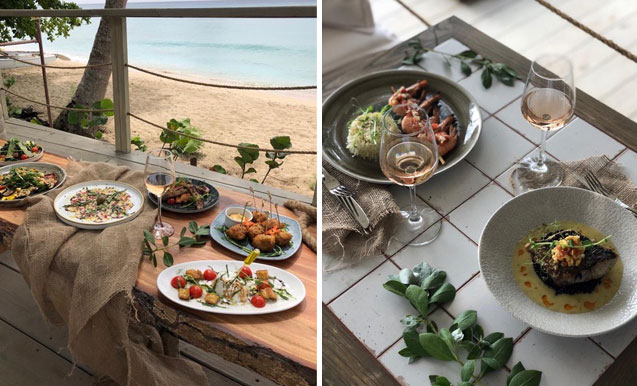 Laissez-fair beach vibe
To start the ball rolling, our Managing Director, Tania, reminisces.
"I absolutely love Sea Shed. It's the perfect blend of a relaxed, beachy atmosphere paired with great meals and bites. I love the Octopus Carpaccio – so beautiful and always fresh!" 
Idyllic setting, celebrity clientele
An obvious favourite, the offerings at Lone Star Restaurant have made their way into many a heart. (We mean stomach.) It is safe to say there were too many to choose just one for this post. The team suggests ordering the Moules Mariniere, Chicken Tikka Masala, Prawn Thai Green Curry, or Shredded Aromatic Duck.
Follow these recommendations and you are definitely in for a treat!
Top fine dining restaurant
"I have personally enjoyed at least two decadent meals at The Tides. Fish has always been a favourite of mine, and the Pan Fried Flying Fish at The Tides does not disappoint. The service as well is worth mentioning. Absolutely impressive!"
This rave review compliments Shernelle, our Concierge Manager, when detailing her experiences at the charming establishment.
Eclectic taste and exceptional cuisine and cocktails
Alexis, our Brand Manager, states in no uncertain terms about The Bearded Rose…
"A must-visit! Welcoming hosts, contemporary decor, and mouthwatering fare were the highlights of my dining experience. The Wagyu Beef Sliders were a trio of magic, second only to the fresh, delectable Yellowfin Tuna Tartare. Would I go back? Absolutely!" (Alexis loves food. We believe her.)
A journey of the senses
Last but not least, this review was submitted to us by Rachel McCartney, Leader of Brokerage at our sister company, Terra Luxury. New hotspot Baia is located in the historic Speightstown.
"It is honestly so refreshing to have a difference in the cuisine in Barbados – as it is Peruvian. The food is consistently good. The Beef Short Rib is melt-in-your-mouth, next-level awesome!"
Which one of these tantalising restaurants would you like to visit? 
Get ready to start planning trips…
Stay in touch, we love to hear from you!
Direct Barbados: 1.246.622.4466
Freephone UK: 0800 0885574
Toll Free US/CND: 1 866 404 9600
Email: experts@blueskyluxury.com
Go back to our website
As Christmas 2022 approaches, we starting the festivities early with a bit of holiday cheer for those who are not travelling for Christmas. Holidays in Barbados offer a great opportunity to create memories with family and friends in the Caribbean.  You can expect sweetness with a bit of spice when it comes to Barbados cuisine, drinks mixed with the oldest rum with history, and more. Curl up with your favourite rum cocktail as we dive into five reasons to travel to Barbados for your 2022-2023 Holidays.
Find a spot on the beach

– Barbados is surrounded by gorgeous white sand beaches. Around the Christmas holidays, notable faves are occupied by sun seekers and groups of families. If you prefer a bit of elbow room, you have a better chance securing a lounger in April.

Book a Restaurant – Currently, our Concierge team members are leveraging valuable contacts to secure prime spots to some of the hottest eateries on the island. Pro Tip: Book early to secure your reservation. Check out some of our favourite West Coast restaurants.
Rent a Car – From a Mini Moke to a Mercedes-Benz, our Concierge department have the best connections to find you the best deals. Go Car Rentals is one of our trusted partners. Just send us an email, we can get you on the list for the Easter holidays.
Attend Awesome Events– Polo, music and cultural festivals. Whether it's a glass of champagne at polo or a relaxed rum punch in Oistins, these local events offer a great experience.
Be an Instagram Model – Now that you are basking in the Caribbean, you must share it with those who are not. As the generous soul you are, show everyone where the best Instagram-able spots are in Barbados. Check out Cherry Tree Hill, The Animal Flower Cave and top food spots like Sea Shed, The Bearded Rose, Baia and more!
Stay in touch, we love to hear from you!
Direct Barbados: 1.246.622.4466
Freephone UK: 0800 0885574
Toll Free US/CND: 1 866 404 9600
Email: experts@blueskyluxury.com
Go back to our website
Find a villa here

So, you're planning a Barbados vacation with the family? We're confident you'll have an unforgettable holiday. But we also know what it's like trying to coordinate activities that the whole family will enjoy. Excursions that are fun-filled and kid-friendly, but also stimulating and interesting for the adults. Is that too much to ask for? Don't worry, we've got you covered. You'll be spoiled for choice with things to do in Barbados. So to get you started, here are six Barbados family activities handpicked by the Blue Sky Luxury Concierge Team.
Barbados water sports
For beach lovers, there's a lot more on offer than sandcastles and sun loungers. For action-packed fun, Rascals Water Park has an inflatable obstacle course – a floating playground with slides, jumps, and more. Carlisle Bay is a great place to try paddle boarding and kayaking. Or check out Freights Bay for surf lessons – the easy-going long waves are great for beginners and kids. Why not join a snorkel tour or learn to scuba dive at one of the many dive shops on the island? Our Blue Sky Luxury Concierge Services can recommend and book the best Barbados water sports activities for you and your family.
Harrison's Cave
Grab your hard hats and head underground for one of the island's most spectacular natural features, and a top Barbados family-friendly activity. The interactive tour (aboard an open tram, which the kids will love!) takes you deep into the crystalised limestone cave system that stretches over two kilometers. Discover impressive stalactite and stalagmite formations, flowing streams, deep pools, and even an underground waterfall. Harrison's Cave is a fun and educational experience, and (here's an insider tip!) it's a great activity for those rare rainy days in paradise.
Catamaran Cruise
You're in the Caribbean! So a day on the water is a must and it's one of our top recommendations for things to do in Barbados. There are several companies offering catamaran day cruises on a join-in or private basis. Most offer two snorkel stops with the chance to swim with turtles and explore a shipwreck, followed by a delicious Bajan buffet lunch and a cruise along the iconic Barbados west coast. Just picture yourself sipping on a rum punch, under sail, looking out at the stunning turquoise waters. The Blue Sky Luxury Concierge Services can recommend the best cruise for your family, and make all the arrangements.
St Nicholas Abbey
A national treasure with something for the whole family. The kids will love the ride on the historic steam train that climbs to Cherry Tree Hill with stunning views over the east coast. This is followed by a tour of the great house, rum distillery and of course a rum tasting session for the adults. The estate grounds are expansive and beautiful – lots of room for little ones to explore and run around, and there's a lovely café serving drinks and snacks. Overall St Nicholas Abbey offers a wonderful excursion that ticks all the boxes for a memorable day out for your Barbados vacation.
Animal flower cave
Another 'must do' for Barbados family activities is a visit to this unique natural feature on the wild and rugged north east coast of the island. Animal Flower Cave is named after the sea anemone 'animal flowers' that live in the natural pools, descend the rock staircase into this stunning seaside cave, open to the crashing Atlantic waves on one side. Bring your swimsuit and have a paddle in the beautiful natural pool inside the cave. Be sure to have lunch at the breathtaking ocean-facing restaurant when you return to the ground level. There's a small playground for children, often with inquisitive goats running around!
Welchman Hall Gully
Follow the nature trail deep into this beautiful natural gully which was formed by a collapsed cave system in the centre of Barbados. You can take a guided tour with one of the knowledgeable tour guides, or just enjoy a self-guided visit The path is paved and wheelchair / stroller accessible, so Welchman Hall Gully is a great family-friendly excursion particularly for small children. Our tip is to pack a picnic and take your time. One added bonus is to visit when the monkeys are being fed (usually between 10.30 am and noon).
This is just a flavour of the many things to do in Barbados. Our Blue Sky Luxury Concierge Team is ready to make your Barbados vacation as special as possible with carefully selected activities to match the interests of your family. Priceless memories await!

Stay in touch, we love to hear from you!
Direct Barbados: 1-246-622-4466
Freephone UK: 0-800-088-5574
Toll Free US/CND: 1-866-404-9600
Email: experts@blueskyluxury.com
Go back to our website