Barbados celebrates 56 years of Independence on November 30th this year!  The most authentic Barbadian sights, tastes, and sounds have been on exhibit this month all across the island, and the month's finale features an extravaganza of events!
To start off the day, a national parade is held in recognition of this with the President and Prime Minister of Barbados in attendance. Afterward, a sumptuous Barbadian meal is the order of the day. Several of the island's restaurants offer their Independence-themed menus, catering delicious breakfasts and lunches in a truly Bajan way. You can indulge in fried plantain, fish cakes, cou-cou and flying fish, macaroni pie, Bajan soup complete with Bajan dumplings, sweet bread, and seasonal conkies. For the rest of the big day, take a scenic island outing to see and mingle with the many happy and proud Barbadians found 'liming' – our version of hanging out – along the island's shores, national parks and popular picnic spots. And while you're at it, don't forget to wear your blue, yellow and/or black – a representation of our national colours.
And finally, for the lovers of local music and fans of the party scene, November is now being considered the 'New Crop Over,' thanks to several promoters hosting independence themed parties at lovely plantation homes and other venues; party cruises along the island's gorgeous coast; and carnival-inspired parades complete with music, paint and powder under the shimmering night's sky. Of course, it is all topped off by the island's favourite spirit in all its many forms – rum!
Happy Independence Barbados!
It is no secret that Barbados' West Coast has a reputation for great food and impeccable service. Choose formal dining rooms or relaxed beachfront eateries. There is something for everyone. It is a known fact that the staff at Blue Sky Luxury love to eat! We have rounded up five of the best restaurants in Barbados and got candid dining reviews. Check out their list of recommended dishes from the top restaurants in Barbados. We hope our restaurant reviews help you to decide which Barbados West Coast restaurants you need to visit in 2022!
In no particular order, here are the top picks:
Sea Shed
The Lone Star Restaurant
The Tides
Bearded Rose
Baia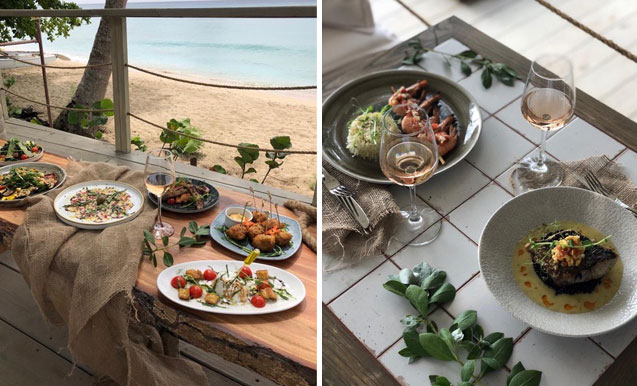 Laissez-fair beach vibe
To start the ball rolling, our Managing Director, Tania, reminisces.
"I absolutely love Sea Shed. It's the perfect blend of a relaxed, beachy atmosphere paired with great meals and bites. I love the Octopus Carpaccio – so beautiful and always fresh!" 
Idyllic setting, celebrity clientele
An obvious favourite, the offerings at Lone Star Restaurant have made their way into many a heart. (We mean stomach.) It is safe to say there were too many to choose just one for this post. The team suggests ordering the Moules Mariniere, Chicken Tikka Masala, Prawn Thai Green Curry, or Shredded Aromatic Duck.
Follow these recommendations and you are definitely in for a treat!
Top fine dining restaurant
"I have personally enjoyed at least two decadent meals at The Tides. Fish has always been a favourite of mine, and the Pan Fried Flying Fish at The Tides does not disappoint. The service as well is worth mentioning. Absolutely impressive!"
This rave review compliments Shernelle, our Concierge Manager, when detailing her experiences at the charming establishment.
Eclectic taste and exceptional cuisine and cocktails
Alexis, our Brand Manager, states in no uncertain terms about The Bearded Rose…
"A must-visit! Welcoming hosts, contemporary decor, and mouthwatering fare were the highlights of my dining experience. The Wagyu Beef Sliders were a trio of magic, second only to the fresh, delectable Yellowfin Tuna Tartare. Would I go back? Absolutely!" (Alexis loves food. We believe her.)
A journey of the senses
Last but not least, this review was submitted to us by Rachel McCartney, Leader of Brokerage at our sister company, Terra Luxury. New hotspot Baia is located in the historic Speightstown.
"It is honestly so refreshing to have a difference in the cuisine in Barbados – as it is Peruvian. The food is consistently good. The Beef Short Rib is melt-in-your-mouth, next-level awesome!"
Which one of these tantalising restaurants would you like to visit? 
Get ready to start planning trips…
Stay in touch, we love to hear from you!
Direct Barbados: 1.246.622.4466
Freephone UK: 0800 0885574
Toll Free US/CND: 1 866 404 9600
Email: experts@blueskyluxury.com
Go back to our website
The sun is out, the sea is beckoning…it's time for a vacation! You're ready to head off to paradise, Barbados. Your Blue Sky Luxury reservations experts suggested the enchanting beachfront villa Crystal Springs.
Designed by Oliver Messel, Crystal Springs villa is one of the most exquisite on the island of Barbados. The villa, situated on the west coast, sits directly on the water and showcases some of the most spectacular sunsets on the island. The residence, with a dedicated staff of 14, comprises six beautiful buildings. There are several living spaces, three al fresco dining areas, and ten guest rooms, each featuring an en-suite bathroom, luxurious amenities, and accommodating layouts, making Crystal Springs an ideal villa for large groups or families looking for an intimate holiday retreat.
This private estate on a 1.7-acre plot of land has access to a secluded sandy cove, an 18-ft speedboat, a Sunfish sailboat, and a couple of stand-up paddle boards. You also can access nearby activities, including tennis, golf, and polo. There is plenty to keep you and your loved ones occupied during your stay.
Here are some more of the finer details of the property:
10 bedrooms with air-conditioning

State-of-the-art Cinema

Speed Boat

50x20ft Heated Infinity Pool

Gym
With the help of our experts at Blue Sky Luxury, this villa can house an unforgettable holiday for you and your guests. See more of the villa here: Take me to see Crystal Springs!
Stay in touch, we love to hear from you!
Direct Barbados: 1.246.622.4466
Freephone UK: 0800 0885574
Toll Free US/CND: 1 866 404 9600
Email: experts@blueskyluxury.com
Go back to our website
Find a villa here
As Christmas 2022 approaches, we starting the festivities early with a bit of holiday cheer for those who are not travelling for Christmas. Holidays in Barbados offer a great opportunity to create memories with family and friends in the Caribbean.  You can expect sweetness with a bit of spice when it comes to Barbados cuisine, drinks mixed with the oldest rum with history, and more. Curl up with your favourite rum cocktail as we dive into five reasons to travel to Barbados for your 2022-2023 Holidays.
Find a spot on the beach

– Barbados is surrounded by gorgeous white sand beaches. Around the Christmas holidays, notable faves are occupied by sun seekers and groups of families. If you prefer a bit of elbow room, you have a better chance securing a lounger in April.

Book a Restaurant – Currently, our Concierge team members are leveraging valuable contacts to secure prime spots to some of the hottest eateries on the island. Pro Tip: Book early to secure your reservation. Check out some of our favourite West Coast restaurants.
Rent a Car – From a Mini Moke to a Mercedes-Benz, our Concierge department have the best connections to find you the best deals. Go Car Rentals is one of our trusted partners. Just send us an email, we can get you on the list for the Easter holidays.
Attend Awesome Events– Polo, music and cultural festivals. Whether it's a glass of champagne at polo or a relaxed rum punch in Oistins, these local events offer a great experience.
Be an Instagram Model – Now that you are basking in the Caribbean, you must share it with those who are not. As the generous soul you are, show everyone where the best Instagram-able spots are in Barbados. Check out Cherry Tree Hill, The Animal Flower Cave and top food spots like Sea Shed, The Bearded Rose, Baia and more!
Stay in touch, we love to hear from you!
Direct Barbados: 1.246.622.4466
Freephone UK: 0800 0885574
Toll Free US/CND: 1 866 404 9600
Email: experts@blueskyluxury.com
Go back to our website
Find a villa here
We have compiled a list of exquisite Barbados experiences if you are considering a Caribbean Villa Holiday in 2022. 
New Dining Experiences
The Bearded Rose by Timothy Oulton is one of the trendiest eateries on the West Coast. This new restaurant and upscale bar is located in the heart of Limegrove Shopping Centre. The bar is opposite 2nd Street, a local hotspot featuring restaurants, bars and nightclubs. 
On the Water
Spending time on the water is one of the most popular things to do in Barbados. Seaduced is one of our preferred partners; they recently added a sleek vessel to their fleet of luxury catamarans. Sail from your villa and enjoy canapes and champagne. The service is unmatched.
Culinary experiences in Barbados
On the Barbados food scene the Food and Rum Festival is an iconic annual experience featuring Barbados' top chefs and mixologists. There are different tiers of experience: St. Lawrence Gap Street Party, Oistins under the Stars, Cuisine from Africa to Barbados and more! October 1, 2022, kicks off with a mouthwatering Food Truck event.
Wellness at your villa
Featured in The National Geographic Spa & Wellness 2022 issue, Blue Sky Luxury is fast becoming known for its 5-star villas offering luxury wellness retreats. Our villas feature spas, saunas, beachfront meditation spots and preferred wellness partners. Relax and rejuvenate in your own space, on your own time.
Stay in touch, we love to hear from you!
Direct Barbados: 1.246.622.4466
Freephone UK: 0800 0885574
Toll Free US/CND: 1 866 404 9600
Email: experts@blueskyluxury.com
Go back to our website
Find a villa here

So you have finally decided that it is time for a vacation. Where will you go? What can you do? There are endless possibilities! You know you want to go to the Caribbean, maybe to Barbados, but which island is the best? You know that Barbados is in Jamaica – hold on, now wait a minute, this is where Blue Sky Luxury, The Holiday Home Experts, comes in. Barbados is not in Jamaica. Trust us. Furthermore, you will not want to consider any other Caribbean vacation. We have all the information needed to plan the perfect Barbados vacation. We will go a step further to provide information on anything you may want to know about Barbados vacation rentals. We're funny, knowledgeable, and, dare I say – the best in the business. 
Blue Sky Luxury – Who we are
A picture is worth a thousand words, so we figure a video must be worth 2,000 words (like this blog.) Watch our video below for a quick overview of all of the services that Blue Sky Luxury provides. In a nutshell, we are a full-service holiday rental company with service lines of Reservations, Property Management and Concierge Services.
We have been in the business for over forty years and we are a giant in the region. What makes us special? We take a human approach to anyone that we come into contact with, we greet everyone as friends, and we guarantee that you will leave as family and we're particularly proud that we can offer anyone a vacation rental to suit their needs. The crown in our jewel. I mean the jewel in our crown…just making sure you're paying attention, is our Elite Collection. I'm getting ahead here a bit. Watch our video and we'll talk more about The Elite Collection, luxury your way and how you can enjoy an authentic local experience at any of our 150+ best-in-class villas.
So now that you are caught up on what we do follow us on social. We are wherever you are. Facebook, LinkedIn, Instagram, and Twitter. Charlene is our Social Media Coordinator. I told her you were coming. She's watching and waiting. 
Barbados – an island not in Jamaica
Our Reservations department is a wellspring of knowledge. Many of our agents have been with the team for over 10- 20 years. We are appreciative that we have a collective data pool of over 50 years of experience. What sets us apart, is that Blue Sky Luxury is the chart holder for most of the villas in our holiday rentals portfolio. This means that wherever you book, our team has final approval so pro tip – Book Direct with Blue Sky Luxury.
Don't tell anyone we said this, but hotels are so 2019. We will compare villas vs hotels as we aren't biased. We love hotels as well… just villas more. With the emergence of the pandemic, villa stays have become in high demand due to their ability to provide privacy, flexibility, and a more bespoke holiday experience. When you are looking to book (direct) we have segmented villa holidays so that our guests can choose from:
Flagship villas

– An elite collection of five-star celebrity-style villas in breathtaking locations with a discreet complement of expert staff.

Luxury villas

– The finest collection of luxury villas with fabulous reviews, stunning locations, and expert staffing options.

Classic villas

– A selection of inland and beachfront villas for the contemporary or lassie-fair traveller.
Your destination is important but the villa selection is equally so, and our villas rival many international villas. We make it easy for you to find a villa vacation that fits your style. Our website blueskyluxury.com has a comprehensive page on Barbados information. Dive right in but come back to my blog soon, I have at least 3,000 more words to go.
Concierge will have you living Like a celebrity!
Have you ever used concierge services? Concierge is like having an elegant assistant at your fingertips. They make vacation planning easy and effortless. From Fast Track (you need this) to car rentals and pre-stocking this team is friendly, bubbly and they go the extra mile. Additionally, this team also handles guest relations and will check on you during your stay to ensure that your holiday is going the way you planned!
Property Management Services at Blue Sky Luxury
Let's say, you decide to visit Barbados. You fall in love with the island, the people, the culture (and making money,) so you decide to purchase a villa. The Property Management department is the team that works behind the scenes to ensure that all villas are safe and well-kept. They have exceptionally high standards for safety and cleanliness and are on call 24-hrs to make this happen.
If there is a problem at your villa, a Property Manager will be on hand to ensure that it is sorted soonest. During adverse weather, you are never left alone. Our Property Managers ensure that your villa is safeguarded, contact numbers for them and emergency services are at hand and that you are comfortable. We like to think of them as our superheroes.
It's quite possible that we are well over 3,000 words but I hope that this blog on Barbados vacation rentals has been useful or at the very least entertaining. I've included some FAQs relating to this blog. Happy vacationing, choose Blue Sky Luxury and choose Barbados.
Barbados Vacation Rentals FAQs
Q: How can travel to Barbados?
A: Virgin Atlantic, Air Canada, British Airways, Jet Blue, West Jet, Caribbean Airlines, and more all fly to the island.
Q: Where is Barbados if you allege it is not in Jamaica
A: Barbados is just off the island chain, out of the main hurricane belt in the Caribbean. Our closest neighbours are the islands of St. Vincent and St. Lucia
Q: Can I fly to Barbados by private jet?
A: Absolutely! M Jet is one of Barbados' Premier Fixed Based Operators with a private ramp and hangar.
Q: Can I sail to Barbados?
A: Sure bet! Leave your Blue Sky Luxury villa and island-hop to the Grenadines
Q: Do I have to book with an international tour operator or agent?
A: No you do not. All vacation bookings come through Blue Sky Luxury so make your life easier by booking with us
Q: How do I know which Barbados villa to choose?
A: The team at Blue Sky Luxury is available by email, and website chat. Ask us how we can help you find the perfect villa
Q: I want to purchase a luxury villa in Barbados. Can Blue Sky Luxury help?
A: Our sister company Terra Luxury offers luxury villas for sale and many of our new owners engage us for Property Management services
Q: Can I contact Concierge even if I am not staying at a Blue Sky Luxury villa?
A:  We love to help everyone! We won't tell if you won't but please do.
Q: What else does Property Management do other than Property Management?
A: I've seen them arrange flowers, decorate an entire villa (see Bora Bora by Zoe), and line dance but they also excel at small project management, villa staffing, Human Resources, and trust accounting just to name a few.
Q: Villa Guru, you are so wise and such a gifted writer, how do I contact you for more details on Barbados or vacation rentals information?
A: Stop it, you're flattering me. Flatter me some more at experts@blueskyluxury.com
Until my next blog Friends….
From the desk of the
Villa Guru
Stay in touch, we love to hear from you!
Direct Barbados: 1.246.622.4466
Freephone UK: 0800 0885574
Toll Free US/CND: 1 866 404 9600
Email: experts@blueskyluxury.com
Go back to our website
Find a villa here
Ready for that authentic Barbados road trip? No road trip is complete without some tasty treats like the unique ones that Barbados has to offer! Here is a quick look at 5 Barbadian Snacks you need to try!
Sugar Cakes
Made from grated coconut, spices and sugar, this sweet treat is sure to have your sweet tooth pulsing with excitement! You will often find multicolored sugar cakes, which get their colour from food dyes. Traditionally sugar cakes were made with only coconut and sugar (and molasses for brown sugar cakes) but recently new flavours have been created including bay leaf and ginger!
Tamarind Balls
This tart snack is a favourite among locals and visitors alike. Bajan tamarind balls are a perfect blend of sweet and sour. The tamarind fruit is combined with brown sugar and rolled into balls satisfying both your sweet and sour senses. You can also get some that are hot and spicy flavoured. Be careful when biting into these as most tamarind balls contain a few tamarind seeds!
Nut Cakes
If you love peanuts and sugar, then Bajan nut cakes are for you! (By the way, we aren't referring to the traditional cake made with butter, sugar and eggs) This crunchy treat is similar to peanut brittle, where peanuts and sugar are combined and made into oval pieces.
Fishcakes
Perhaps the most popular food in Barbados, fish cakes can be found on all menus – from 5 star restaurants to street-side vendors. Fish cakes are a savoury mix of salted cod fish and local herbs and spices, deep fried to golden perfection. A favourite version of the Bajan cutter is the 'Bread and Two' which includes two fish cakes, a slice of a cheese and of course, pepper sauce.
Coconut Bread
Coconut bread, also known as sweet bread, is another Bajan sweet delicacy that will definitely satisfy your sugar cravings. =The pièce de résistance is the divine combination of grated coconut, powdered cinnamon, and brown sugar placed in the middle of the coconut bread or on top of the loaf leaving a burst of sweet 'cinnamony' flavour in your mouth! You can enjoy this treat anytime of the year.
Stay in touch, we love to hear from you!
Direct Barbados: 1.246.622.4466
Freephone UK: 0800 0885574
Toll Free US/CND: 1 866 404 9600
Email: experts@blueskyluxury.com
Go back to our website
Find a villa here
There truly is no better answer than ALL THE TIME! With sunny views all year and fun events for entertainment, the real question is "How are you getting here?". If it helps, here are some interesting events and festivals that happen throughout the year in Barbados that can help your decision when to visit.
1. Crop Over Season: July – August
2. Holetown Festival: February
3. Barbados Food and Rum Festival: October
4. Oistins Fish Festival: April
5. Sandy Lane Gold Cup: March
6. Gospelfest: May
7. Reggae Festival: April
8. Rally Barbados: June
9. Barbados Celtic Festival: May
10. Run Barbados: December
11. Barbados Hockey Festival: August
12. Barbados Sailing Week: January
Find out more about these events by visiting visitbarbados.org

Stay in touch, we love to hear from you!
Direct Barbados: 1.246.622.4466
Freephone UK: 0800 0885574
Toll Free US/CND: 1 866 404 9600
Email: experts@blueskyluxury.com
Go back to our website
Find a villa here
At Blue Sky Luxury, health and safety are important to us as it is to our rental clients. Regular inspections result in safe living accommodations and our printed property information give tips on health and safety. We highly recommend reading these tips provided to be informed and aware.
Here are a few tips that will help you stay safe while on your next holiday vacation in Barbados:
Always remember to lock/secure all doors and windows when leaving the property or before going to bed.
Use safes provided to store your valuables.
Use the alarm system if provided when going out or staying in.
If there is a gate for beach access always remember to lock that gate after you come off the beach.
Pay attention to pool signs.
Check for the depth of the pool and if you or any of your party cannot swim do not pretend to be brave and venture into the deep end.
Only use plasticware around the pool.
Do not leave small children unattended in the pool or otherwise.
Where there are high balconies small children must be supervised.
Do not go in the pool or on high balconies while intoxicated.
Avoid inviting strangers into your holiday home.
To find out more about how we manage properties and what we do to promote a safe holiday, click here!
Following these tips will result in an incident-free holiday. Help us help you stay safe!
Stay in touch, we love to hear from you!
Direct Barbados: 1.246.622.4466
Freephone UK: 0800 0885574
Toll Free US/CND: 1 866 404 9600
Email: experts@blueskyluxury.com
Go back to our website
Arrive in Barbados with your negative test results and voila, you're free to go. It's that simple. Have breakfast, a dip in the pool, (at your private vacation villa), or visit one of our Top 5 recommended restaurants – all with no time spent under restrictive movement. If you have not yet already done so and you have an upcoming stay with Blue Sky Luxury, please confirm to our team the vaccination status of all adults in your party so that we can ensure arrangements are made accordingly. Before you get to roaming the Barbados countryside, here are the full details for vaccinated and unvaccinated travellers in the new Barbados Travel Protocols.
What's a fully vaccinated person?
A fully vaccinated person has been classified by the Barbados Government as having received an approved vaccine in a two-dose regime and has received both doses plus 14 days, or a one-dose regime, one dose plus 14 days. Your vaccination status will be fact-checked by the Barbados Government and persons who do not meet the criteria will fall under the travel protocol for unvaccinated persons. That's not a terrible thing, it may be a slightly longer wait but the safety of Barbadians and visitors alike has always paramount. However, if you are looking forward to the roaming of said countryside, being fully vaccinated certainly fast tracks you there… ahem, as do our Concierge Can team.
How Can we at Blue Sky Luxury Help?
Protocols are constantly changing; Barbados has been quite forward-thinking in ways to operate safely while placing the value of lives at the forefront. Our Concierge Can team can help you:
· Secure your PCR appointment with an approved medical practitioner
· Arrange for the medical practitioner to test you privately at your villa
Stick with the holiday home experts at Blue Sky Luxury to receive optimistic travel news as it happens. We will keep a close eye on travel trends so you stay updated. We are happy to share Barbados travel news with you as it happens. Follow us on Instagram and Facebook @blueskyluxury for updates and stunning vacation rentals.
Stay in touch, we love to hear from you!
Direct Barbados: 1.246.622.4466
Freephone UK: 0800 0885574
Toll Free US/CND: 1 866 404 9600
Email: experts@blueskyluxury.com
Go back to our website
Find a villa here