Dear food lovers! This is an official foodie invitation to the Culinary Capital of the Caribbean! We promise you'll rejoice at every step of the culinary journey in Barbados. So, let's get the ball rolling with some of our top Barbados restaurants right now – all certainly bookable by our wonderful Concierge team.
The Tides
While seafood tops the menu at The Tides, everyone is sure to find something to woo their tastebuds. In addition to the truly amazing food, the ambiance is enchanting, setting the perfect mood for the perfect Barbados fine dining experience. Nestle into the Tree House, the Centre Lanai, The Gazebo (with an air condition section) or the Cocktail Lounge and Bar and let your palate be pampered.
Restaurant: The Tides
Mood: Fine Dining
Location: Holetown, St. James
Cuisine: Caribbean, Seafood
Amenities: Valet, lounge, bar
The Cherry on Top: Besides sitting right on the water's edge, there is also a historic charm to the location. The restaurant is housed in a decades-old residence built after the second world war!
Local & Co.
the newest flavours to savour in Barbados are being whipped up at the Local & Co. This new foodie-crush is a rustic-chic restaurant in a beautiful 18th century home in the heart of Speightstown. What's extra special about this restaurant is that its ethos is based on sourcing fresh, organic fare from local and regional farmers and foragers – then transforming them into delectable dishes and products for everyone to enjoy.
Restaurant: Local & Co.
Mood: Farm-to-Table
Location: Speightstown, St. Peter
Cuisine: Local, Caribbean
Amenities: Rum bar, in-house marketplace, beachfront seating
The Cherry on Top: It is perfect for vegans with over 30 vegan options on its menu – including some raw vegan dishes, too!
Sea Shed
Come in beach-loving foodies, we have something especially for you. Sea Shed is one of our favourite beachfront eateries right now. It's quasi-beach club, quasi-contemporary restaurant, but 100% scrumptious food – we can't even begin to do it justice! And, they've proclaimed to be constantly 'switching things up' on their menu, so look out for a different surprise on each visit. So lounge, eat, cheers, repeat – right on the stunning Mullins beach!
Restaurant: Sea Shed
Mood: Beach Chic
Location: Mullins, St. Peter
Cuisine: Caribbean, International
Amenities: Bar, lounge, boutique
The Cherry on Top: You can opt to add the beach to your Sea Shed experience by reserving a table on the sand!
Champers
Champers has been giving casual dining plus first-class – and extremely consistent quality – food for almost three decades. As you get lost in its beautiful décor and location, 'casual' will seem like a misnomer. The south coast staple offers a blend of Barbadian and international fare that continues to make a delicious mark on the Barbados foodie journey.
Restaurant: Champers
Mood: Casual, Business
Location: Rockley, Christ Church
Cuisine: Local, International
Amenities: Bar, beachfront dining
The Cherry on Top: Art lovers rejoice – the restaurant is home to On The Wall art gallery, which effortlessly complements the Champers' journey of the senses!
Worthing Square
If you want several food experiences in one place, our pick of the moment is the newest melting pot of flavours – Worthing Square! This super casual, food truck-esque stop is jam-packed with many cuisines in a relatively small area: Barbadian, Indian, Venezuelan, Trinidadian, Jamaican, Arabian, French, Japanese… just check it out! Although no reservations are necessary, our concierge team can still point you in the right direction and share their favourite Worthing Square haunts!
Location: Worthing Square
Mood: Outdoor Fun
Location: Worthing, Christ Church
Cuisine: Local, Caribbean, International
Amenities: Seating, Bars, Cafes
The Cherry on Top: It's the perfect open-air location for a family outing – and there's something for everyone!
With all that said, our Blue Sky Luxury Concierge team is ready to book you at any of these amazing eateries. And be sure to ask them about more restaurant and culinary options the island has to offer!
Cin Cin!
Stay in touch, we love to hear from you!
Direct Barbados: 1.246.622.4466
Freephone UK: 0800 0885574
Toll Free US/CND: 1 866 404 9600
Email: experts@blueskyluxury.com
Go back to our website
It was truly a pleasure to celebrate with our valued clients and friends in an effort to thank them for their continued support. Our Managing Director, Tania Wallace, Leader Residential Property Management – Gina- Lee Johnson, Team Manager – Rashida Lynch and Concierge Manager – Shernelle Brome and other valued members of the team were on hand to mingle with our valued guests.
It goes without saying that our team enjoys a close relationship with our owners and our guests mean the world to us. As a full service vacation rentals company we often share client relationships with our sister company Terra Luxury and their team was on hand to mix and mingle as well. Sea Shed provided an excellent venue and our guests had an excellent time.  A delectable selected of Sea Shed fishcakes, Beef Tartare and their signature Margherita Mina Pizzas were available to nibble on.
We're excited to continue to work with our clients and to support our guests in 2020. We relish any reason to celebrate, spend time and truly extend a heartfelt thank you.
Rose in hand and toes in the sand.
We have all been in anticipation about what is happening on Mullins Beach for several weeks now. At last, The Sea Shed has arrived and has opened its doors.
Barefoot chic with an element of rustic luxury, this new seaside venue will offer a European-Caribbean beach club vibe with fresh foods inspired by French and local traditions.
"Sea to Slate" is the philosophy of this new trendy spot which simply means bringing fresh fish from the sea to your plate. Catch of the day? Yes please.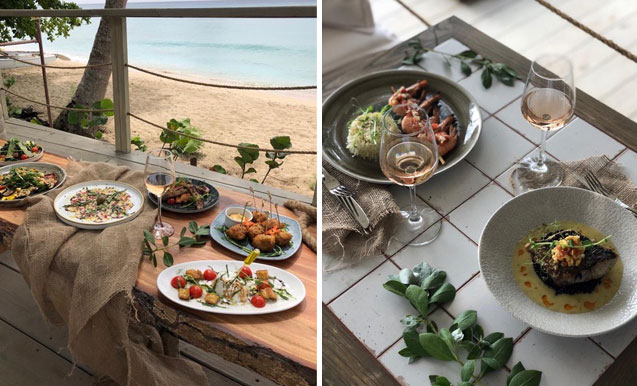 Other dishes include fresh lobster and octopus, stone-oven pizza, lasagna and the all time favourite burger, just to name a few. Mouthwatering cocktails and fine wines can also be found here.
Well known, Chef Jeremy Dupire is at the helm of this place and with him he brings a wealth of knowledge, talent and whole-hearted dedication to ensure an unforgettable food experience for you.
Beach service opens from 10am and includes beach loungers and umbrellas. The restaurant opens from 12noon and takes reservations up to 8pm daily. Closed on Tuesdays.
It's new. It's sexy. And the food is to-die-for.  A must try!
For reservations – (246) 572-5111
Facebook – Sea Shed Barbados
Instagram – seashed_barbados