Rose in hand and toes in the sand.
We have all been in anticipation about what is happening on Mullins Beach for several weeks now. At last, The Sea Shed has arrived and has opened its doors.
Barefoot chic with an element of rustic luxury, this new seaside venue will offer a European-Caribbean beach club vibe with fresh foods inspired by French and local traditions.
"Sea to Slate" is the philosophy of this new trendy spot which simply means bringing fresh fish from the sea to your plate. Catch of the day? Yes please.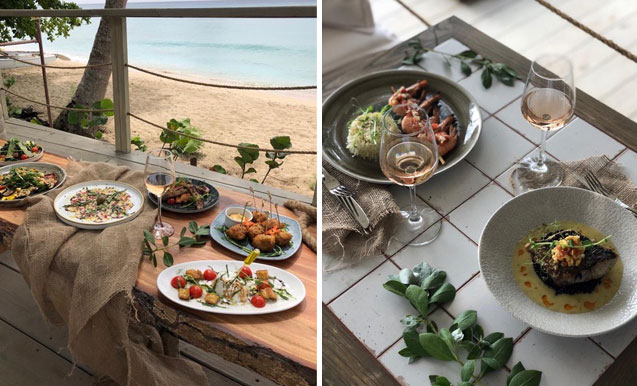 Other dishes include fresh lobster and octopus, stone-oven pizza, lasagna and the all time favourite burger, just to name a few. Mouthwatering cocktails and fine wines can also be found here.
Well known, Chef Jeremy Dupire is at the helm of this place and with him he brings a wealth of knowledge, talent and whole-hearted dedication to ensure an unforgettable food experience for you.
Beach service opens from 10am and includes beach loungers and umbrellas. The restaurant opens from 12noon and takes reservations up to 8pm daily. Closed on Tuesdays.
It's new. It's sexy. And the food is to-die-for.  A must try!
For reservations – (246) 572-5111
Facebook – Sea Shed Barbados
Instagram – seashed_barbados
Speightstown, one of the four pillar towns on the island, encompasses everything from relics of British military history to contemporary fine dining restaurants. This presumably laid back town also has quite a bit to offer in terms of good shopping, banks, sidewalk vendors as well as excellent casual dining options. Not to mention Holetown, which is also a great shopping and dining area, is located just a short 15 minute drive away.
Near to this unspoilt little town is the absolutely palatial Leamington Pavilion, a stunning holiday home with all the trims and fancies to create lasting memories and Fustic House, the most prolific of these historic homes we are fortunate enough to feature in our holiday homes portfolio.
Also, another fabulous option Nelson Gay, is a Palladian-style coral stone beauty located on the outskirts of Speightstown and Schooner Bay a complex of elegant apartments within walking distance whose terraces and patios provide beautiful views over the pool and onward to the beach and Caribbean Sea!
View all of our luxurious homes: Barbados