Dear food lovers! This is an official foodie invitation to the Culinary Capital of the Caribbean! We promise you'll rejoice at every step of the culinary journey in Barbados. So, let's get the ball rolling with some of our top Barbados restaurants right now – all certainly bookable by our wonderful Concierge team.
The Tides
While seafood tops the menu at The Tides, everyone is sure to find something to woo their tastebuds. In addition to the truly amazing food, the ambiance is enchanting, setting the perfect mood for the perfect Barbados fine dining experience. Nestle into the Tree House, the Centre Lanai, The Gazebo (with an air condition section) or the Cocktail Lounge and Bar and let your palate be pampered.
Restaurant: The Tides
Mood: Fine Dining
Location: Holetown, St. James
Cuisine: Caribbean, Seafood
Amenities: Valet, lounge, bar
The Cherry on Top: Besides sitting right on the water's edge, there is also a historic charm to the location. The restaurant is housed in a decades-old residence built after the second world war!
Local & Co.
the newest flavours to savour in Barbados are being whipped up at the Local & Co. This new foodie-crush is a rustic-chic restaurant in a beautiful 18th century home in the heart of Speightstown. What's extra special about this restaurant is that its ethos is based on sourcing fresh, organic fare from local and regional farmers and foragers – then transforming them into delectable dishes and products for everyone to enjoy.
Restaurant: Local & Co.
Mood: Farm-to-Table
Location: Speightstown, St. Peter
Cuisine: Local, Caribbean
Amenities: Rum bar, in-house marketplace, beachfront seating
The Cherry on Top: It is perfect for vegans with over 30 vegan options on its menu – including some raw vegan dishes, too!
Sea Shed
Come in beach-loving foodies, we have something especially for you. Sea Shed is one of our favourite beachfront eateries right now. It's quasi-beach club, quasi-contemporary restaurant, but 100% scrumptious food – we can't even begin to do it justice! And, they've proclaimed to be constantly 'switching things up' on their menu, so look out for a different surprise on each visit. So lounge, eat, cheers, repeat – right on the stunning Mullins beach!
Restaurant: Sea Shed
Mood: Beach Chic
Location: Mullins, St. Peter
Cuisine: Caribbean, International
Amenities: Bar, lounge, boutique
The Cherry on Top: You can opt to add the beach to your Sea Shed experience by reserving a table on the sand!
Champers
Champers has been giving casual dining plus first-class – and extremely consistent quality – food for almost three decades. As you get lost in its beautiful décor and location, 'casual' will seem like a misnomer. The south coast staple offers a blend of Barbadian and international fare that continues to make a delicious mark on the Barbados foodie journey.
Restaurant: Champers
Mood: Casual, Business
Location: Rockley, Christ Church
Cuisine: Local, International
Amenities: Bar, beachfront dining
The Cherry on Top: Art lovers rejoice – the restaurant is home to On The Wall art gallery, which effortlessly complements the Champers' journey of the senses!
Worthing Square
If you want several food experiences in one place, our pick of the moment is the newest melting pot of flavours – Worthing Square! This super casual, food truck-esque stop is jam-packed with many cuisines in a relatively small area: Barbadian, Indian, Venezuelan, Trinidadian, Jamaican, Arabian, French, Japanese… just check it out! Although no reservations are necessary, our concierge team can still point you in the right direction and share their favourite Worthing Square haunts!
Location: Worthing Square
Mood: Outdoor Fun
Location: Worthing, Christ Church
Cuisine: Local, Caribbean, International
Amenities: Seating, Bars, Cafes
The Cherry on Top: It's the perfect open-air location for a family outing – and there's something for everyone!
With all that said, our Blue Sky Luxury Concierge team is ready to book you at any of these amazing eateries. And be sure to ask them about more restaurant and culinary options the island has to offer!
Cin Cin!
Stay in touch, we love to hear from you!
Direct Barbados: 1.246.622.4466
Freephone UK: 0800 0885574
Toll Free US/CND: 1 866 404 9600
Email: experts@blueskyluxury.com
Go back to our website
Cricket season is here, and we couldn't be more excited! If you're anything like us, you're ready to return to some live sporting action. Why not enjoy the exciting atmosphere of Cricket and the vibe of camaraderie? Book an exciting vacation to sun-kissed Barbados for the international test match. You won't regret it!
Cricket is the national sport of Barbados and the West Indies. Barbadians and visitors come together to watch world-class matches at Kensington Oval. It is a highly anticipated event with crowds roaring through the stands! Did you know that Cricket was first played at Kensington Oval in 1882 and was the first Test match played in 1930?
The upcoming International Test series with West Indies Vs. England, Barbados will host the second Test match from March 16 to 20 at Kensington Oval. The first Test Match will be in Antigua from March 8 – 12 and the final Test in Grenada from March 24 – 28. Learn more about the match details or buy tickets for the matches here.
Build Your Unique Cricket Holiday
When the series reaches Barbados for the second Cricket Test, the action will be even more thrilling! Prepare to experience world-class Cricket and a unique stay with Blue Sky Luxury. We accommodate large groups of friends or family and offer fully staffed villas if you prefer. View some of the top vacation villas on our website blueskyluxury.com
Our Concierge Team can help arrange a full itinerary for you before you arrive on the island including restaurant bookings, car rentals, and baby-sitting services. Let Concierge make your arrival to Barbados easy with fast-track services. Breeze through airport lines and health checks and arrive at your villa in no time. Outside of the game, unwind and enjoy white sand beaches, indulge in authentic local experiences, or have fun with watersports.
Foodies can indulge in a great dining experience on the island and choose from an array of restaurants and eating spots. For suggestions on where to find absolutely delectable meals, check out our blog on the top 5 restaurants in the north or south of the island.
Don't miss out on this local Cricket experience for your next vacation!
Stay in touch, we love to hear from you!
Direct Barbados: 1.246.622.4466
Freephone UK: 0800 0885574
Toll Free US/CND: 1 866 404 9600
Email: experts@blueskyluxury.com
Go back to our website
Photo Credit:

Primo Bar & Bistro
Amidst the tumultuous year that was 2020, PRIMO BAR & BISTRO reopened on July 1st, 2020 under new ownership with a fresh vibe and a dedicated team. Set in an iconic location on the ocean's edge in the calm bay of St. Lawrence Gap, this location has been featured in more magazines and tourist travel logs than anyone can count. The combination of serene sea views, delicious and affordable menu, and friendly staff make this new restaurant ideal for casual dining or tapas & cocktails.
Well-known local entrepreneurs and partners in the business, Mark Maloney and Zary Evelyn, have invested heavily in the restaurant and welcomed back Head Chef Jason Gittens as well as a number of the previous staff to ensure a friendly, welcoming environment.
Photo Credit:

Primo Bar & Bistro
The picturesque location offers a little something for everyone, from the lounge overlooking the boardwalk and all the action in The Gap, to the ground and top floor oceanfront dining balconies and an air-conditioned dining room. The eclectic menu has a subtle West Indian influence and includes an extensive variety of fresh seafood, meat and pasta dishes that accentuate freshness and flavor and there are a wide range of vegan and gluten-free options as well. Primo's boardwalk lounge features the most delectable thin-crust pizzas, perfect while enjoying a cocktail by the sea. The menu has been priced to encourage locals and visitors alike to enjoy this stunning location at affordable prices with starters from Bds$18, mains from Bds$40 and pizzas from Bds$35 to $49 each, and there is also a kids menu. Parking is located across the street and the $5 parking charge is redeemable in the restaurant.
If you pair a stay at a Blue Sky Luxury villa, choose Sapphire Beach, Ocean One 502 or Terraces 101 with a visit to Primo Bar and Restaurant, you'll be walking distance away from the restaurant and all the offerings of The Gap. If you're on the island our Concierge Can team can arrange dinner reservations. If you're planning on visiting…maybe for Summer 2021, make sure Primo is on your Barbados Restaurant Bucket list. Enjoy!
Stay in touch, we love to hear from you!
Direct Barbados: 1.246.622.4466
Freephone UK: 0800 0885574
Toll Free US/CND: 1 866 404 9600
Email: experts@blueskyluxury.com
Go back to our website
Find a villa here
We love the South Coast vibe. It's laid back, plenty of drinking, dining and drinking options. No that was not a typo. If you're a foodie at heart, this list is for you. Without further ado… drumroll… Here are the Top 5 Barbados Restaurants on the South Coast of Barbados, and yes, they are all open with full COVID 19 protocols in place. With protocols constantly changing, it's better to check with the restaurant when booking. Bon appétit!
Barbados' Top 5 South Coast Restaurants
Buzo Osteria Italiana
Salt Café
Blakey's on the Boardwalk
Café Sol
Champers
Food, love, passion
You must check out this amazing Italian Restaurant on Hastings Main Road. A friend once recommended that I try the "Bistecca Ai Ferri" I did, and I've never been the same. It was excellent! but sadly, my Italian, not as good. Just ask for the Ribeye steak, red wine and red onion compote…it's lit! no literally, they light it.
Hand-crafted comfort food
Ok, we all love poke (or do we?) Let's ignore the naysayers for now. Salt is more than just poke. From truffle fries, baos and "banging salads" to crispy pig ears, the international flair of this cosy little restaurant on Hastings Main road will leave your taste buds clamoring for more. I highly recommend the poke… or did I say that already?
Good food, good lime, good music
Did someone say live entertainment, local delicacies, and drink specials? Honestly, I may just pop on over myself! Enjoy the cooling breeze at Blakey's while local acts Jae Johansen, JJ & Chadd and many more serenade you. Have lunch, then take a stroll on the boardwalk after to walk off their delicious local pudding & souse and superlative drink mixes.
Authentic Mexican restaurant
Mentioned in our handy "Barbados Guide and Must-Try List" Café Sol is a Mexican restaurant at the entrance of the ever-famous St. Lawrence Gap. Taste the flavour of warm taquitos, cheesy quesadillas, and a delightful array of mouthwatering margaritas. We would be amiss if we didn't tell you to take a stroll through The Gap to check out the nightlife and to get a nightcap. (yes, that was intentional)
Leading South Coast restaurant
We head down the South Coast to Champers for a delightful seaside dining experience. Located in Rockley, Christ Church, Champers is undoubtedly one of the leading restaurants on the South Coast. What makes it unique is the vibrant art gallery where you can acquire a local piece after you try the highly recommended Herb Crusted Rack of lamb from our Concierge Manager Shernelle. That's her favourite anniversary dish!
Look out for our Top 5 West Coast Restaurants coming soon!
Stay in touch, we love to hear from you!
Direct Barbados: 1.246.622.4466
Freephone UK: 0800 0885574
Toll Free US/CND: 1 866 404 9600
Email: experts@blueskyluxury.com
Go back to our website
Find a villa here
Rose in hand and toes in the sand.
We have all been in anticipation about what is happening on Mullins Beach for several weeks now. At last, The Sea Shed has arrived and has opened its doors.
Barefoot chic with an element of rustic luxury, this new seaside venue will offer a European-Caribbean beach club vibe with fresh foods inspired by French and local traditions.
"Sea to Slate" is the philosophy of this new trendy spot which simply means bringing fresh fish from the sea to your plate. Catch of the day? Yes please.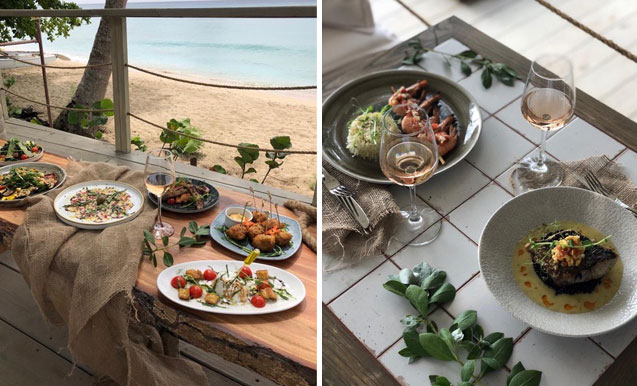 Other dishes include fresh lobster and octopus, stone-oven pizza, lasagna and the all time favourite burger, just to name a few. Mouthwatering cocktails and fine wines can also be found here.
Well known, Chef Jeremy Dupire is at the helm of this place and with him he brings a wealth of knowledge, talent and whole-hearted dedication to ensure an unforgettable food experience for you.
Beach service opens from 10am and includes beach loungers and umbrellas. The restaurant opens from 12noon and takes reservations up to 8pm daily. Closed on Tuesdays.
It's new. It's sexy. And the food is to-die-for.  A must try!
For reservations – (246) 572-5111
Facebook – Sea Shed Barbados
Instagram – seashed_barbados
Photo compliments The Cliff Beach Club
Sunday is now our favourite day of the week! The Cliff Beach Club has made us fall in love all over again with a fresh and timeless way to relax and while the day away. Lunch at the Beach Club features a live band and quite frequently a fashion show hosted by the in-house boutique.
Consistent with The Cliff's well-established standard you'll pull up to valet parking and a warm Bajan welcome from the friendly hostess. We'd recommend arriving at least 30 minutes early so you can enjoy a drink from their cliff-top bar as you admire the 180-degree panoramic view as the bar's backdrop. After you pick your jaw up off the floor from the sheer magnificence of the view, we'd recommend enjoying a few specialty cocktails crafted by expert bartenders.
Photo compliments The Cliff Beach Club
Eclectic Ambiance
Best described as a mixed pot, few do it as seamlessly as The Cliff Beach Club. Its massive metal chandelier installed over the bar area is arguably the focal point of The Beach Club. Housing a combination of coastal, modern and African details, the restaurant is certainly unique. Spread out across three-tiered levels no matter your choice of seating you will experience uninterrupted views of the sea.
Vibes and more vibes
After a Sunday here, you'll be walking with more pep in your step…or a wobble…depends! Lively and upbeat the Beach Club puts on quite the show. Boasting a mixed crowd of locals, repeat guests and newbies, the atmosphere is always friendly and your glass is never empty – their attentive staff sees to that!
Photo compliments The Cliff Beach Club
Mouthwatering Cuisine
Much like its 5 Star sister restaurant, The Beach Club offers world-class culinary delights and decadent desserts. Their a la carte options ensure there's something for everyone. Spicy lobster risotto and the octopus carpaccio give life to the menu while classics such as battered cod and chips provide soul comfort.
Bringing to life the perfect mix of fun and food, The Cliff Beach Club has developed a winning recipe. A 'must visit' while on the island, The Cliff Beach Club will never disappoint.