It is no secret that Barbados' West Coast has a reputation for great food and impeccable service. Choose formal dining rooms or relaxed beachfront eateries. There is something for everyone. It is a known fact that the staff at Blue Sky Luxury love to eat! We have rounded up five of the best restaurants in Barbados and got candid dining reviews. Check out their list of recommended dishes from the top restaurants in Barbados. We hope our restaurant reviews help you to decide which Barbados West Coast restaurants you need to visit in 2022!
In no particular order, here are the top picks:
Sea Shed
The Lone Star Restaurant
The Tides
Bearded Rose
Baia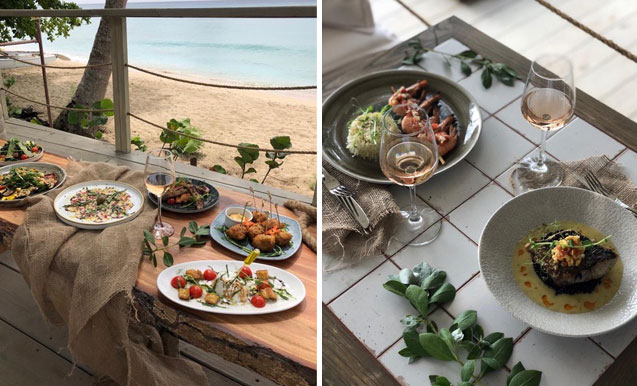 Laissez-fair beach vibe
To start the ball rolling, our Managing Director, Tania, reminisces.
"I absolutely love Sea Shed. It's the perfect blend of a relaxed, beachy atmosphere paired with great meals and bites. I love the Octopus Carpaccio – so beautiful and always fresh!" 
Idyllic setting, celebrity clientele
An obvious favourite, the offerings at Lone Star Restaurant have made their way into many a heart. (We mean stomach.) It is safe to say there were too many to choose just one for this post. The team suggests ordering the Moules Mariniere, Chicken Tikka Masala, Prawn Thai Green Curry, or Shredded Aromatic Duck.
Follow these recommendations and you are definitely in for a treat!
Top fine dining restaurant
"I have personally enjoyed at least two decadent meals at The Tides. Fish has always been a favourite of mine, and the Pan Fried Flying Fish at The Tides does not disappoint. The service as well is worth mentioning. Absolutely impressive!"
This rave review compliments Shernelle, our Concierge Manager, when detailing her experiences at the charming establishment.
Eclectic taste and exceptional cuisine and cocktails
Alexis, our Brand Manager, states in no uncertain terms about The Bearded Rose…
"A must-visit! Welcoming hosts, contemporary decor, and mouthwatering fare were the highlights of my dining experience. The Wagyu Beef Sliders were a trio of magic, second only to the fresh, delectable Yellowfin Tuna Tartare. Would I go back? Absolutely!" (Alexis loves food. We believe her.)
A journey of the senses
Last but not least, this review was submitted to us by Rachel McCartney, Leader of Brokerage at our sister company, Terra Luxury. New hotspot Baia is located in the historic Speightstown.
"It is honestly so refreshing to have a difference in the cuisine in Barbados – as it is Peruvian. The food is consistently good. The Beef Short Rib is melt-in-your-mouth, next-level awesome!"
Which one of these tantalising restaurants would you like to visit? 
Get ready to start planning trips…
Stay in touch, we love to hear from you!
Direct Barbados: 1.246.622.4466
Freephone UK: 0800 0885574
Toll Free US/CND: 1 866 404 9600
Email: experts@blueskyluxury.com
Go back to our website
If you are still searching for the perfect summer vacation villa. Barbados has some of the most beautiful holiday homes in the Caribbean. Guaranteed Blue Sky Luxury has a vacation villa to match your style! For a truly indulgent escape check out this month's top 5 IG holiday rentals.
10 Bed | 10 Bath | Swimming Pool
Impeccable/expert service on par with any five-star luxury hotel.
Blue Point, the self-contained guest cottage offers two additional ensuite bedrooms on the south side of the property.
Designer accommodations! Expect canopy beds, bespoke designer upholstery and finishings, and spacious Italian marble ensuites.
3 Bed | 3½ Bath | Resort Pool
Dining on tasty meals prepared by the cook!
Within walking distance to good shopping, banks, sidewalk vendors and excellent casual dining options.
Facilities on-site include a free-form communal pool and gym.
3 Bed | 3 Bath | Beachfront
On the first floor are the master and bedroom 2 both have private patios, with views of the Caribbean Sea.
The spacious sunbathing deck, and covered patio for outdoor dining and chasing sunsets.
This charming beachfront paradise is perfect for families.
1 Bed |2 Bath | Resort Pool
Guests also have access via elevator to all of the floors, a gym on-site and a pool.
This is a perfect place for a couple to relax in luxurious, beachfront comfort.
Enjoyed splendid Caribbean Sea views from the open-plan living/dining room and the intimate terrace – just the spot for apéritifs in the evening.
2 Bed | 2 Bath | Resort Pool
Perfect for those seeking a getaway in paradise but with all the modern amenities to keep you connected.
Facilities on-site include two swimming pools and a fitness centre.
A charming split-level design apartment is situated overlooking the gorgeous white sands of Dover Beach.
Stay in touch, we love to hear from you!
Direct Barbados: 1.246.622.4466
Freephone UK: 0800 0885574
Toll Free US/CND: 1 866 404 9600
Email: experts@blueskyluxury.com
Go back to our website
Find a villa here
From the south to the west coast of Barbados, the top 5 IG villas this month have one thing in common, unparalleled views. Explore the family-friendly beaches and great snorkeling from your beachfront vacation home. Indulge in a bit of pampering at any of the many restaurants and exclusive shops nearby. Everything you require to enjoy your next holiday is here, book with Blue Sky Luxury.
3 Bed | 4 Bath | Plunge Pool
Each bedroom opens up to views of the Caribbean Sea
There is a bonus room for lounging/sleeping area (crib/bassinet available upon request)
The housekeeper/cook provides delicious breakfasts and lunches 6 days a week
3 Bed | 3½ Bath | Plunge Pool
Friendly and helpful staff including an excellent cook!
All bedrooms open up to a private balcony
This villa is a superb choice for those looking for conveniently located accommodation
5 Bed | 5½ Bath | Swimming Pool
A modern entertainment pavilion with a TV, wine chiller, and plenty of seating.
Full-length floor-to-ceiling windows open fully to enjoy pool and sea views
Soaking in the master bedroom tub and sipping on a fresh cup of coffee
1 Bed | 1 Bath | Resort Pool
Overlooks one of the most beautiful beaches on the South Coast of the island
Enjoy alfresco dining from the patio overlooking the lush gardens and the ocean beyond
Shopping, restaurants, and Worthing Square are all within walking distance
3 Bed | 2 Bath | Plunge Pool
A tropical oasis with a postcard-pretty beach just steps away
Stroll through your private tropical garden to reach the beachfront access
Perfect vacation villa for entertaining and spending time together
Stay in touch, we love to hear from you!
Direct Barbados: 1.246.622.4466
Freephone UK: 0800 0885574
Toll Free US/CND: 1 866 404 9600
Email: experts@blueskyluxury.com
Go back to our website
Find a villa here
Looking for that perfect summer holiday escape? Book your next stay at Onyx, with the holiday experts at Blue Sky Luxury. Ultra-modern in design, this luxury 5-bedroom beachfront villa embodies peace and serenity. Start your day off and indulge in a relaxing drawn bath while taking in spectacular views of Barbados' Platinum beach. Grab a bottle from the fully stocked wine chiller at the entertainment pavilion and enjoy a chardonnay and canapes. While the staff, including a chef, is on hand to make your stay an exceptional one.
What's Nearby
Onyx is close to many luxury stores, restaurants, and bars:
Local & Co. – 3.9km
Sea Shed Restaurant – 2.0km
Limegrove Lifestyle Centre – 3.6km
La Baguette – 2.2km
Zaccios Restaurant – 3.7km
Cafe Ma Cherie – 4.4km
Stay in touch, we love to hear from you!
Direct Barbados: 1.246.622.4466
Freephone UK: 0800 0885574
Toll Free US/CND: 1 866 404 9600
Email: experts@blueskyluxury.com
Go back to our website
Find a villa here
Welcome to the evolution of Greensleeves, a luxury boutique-style villa in Barbados. The owners of Greensleeves made an excellent decision to enhance and create an even more luxurious experience for guests. An extensive renovation of the beachfront estate gave life to a stunning Barbados villa.
You can be assured that the promise of a one-of-a-kind villa will be met with sophisticated designs promoting wellness and peace. The pool has been completely redesigned and rebuilt, zen areas were created and all rooms upgraded with unique, plush furnishings.
A stunning lanai takes advantage of sublime 360 ocean views. The cottage, more so an exquisite stand-alone villa in its own right has been completely revamped and evokes a unique style. Greensleeves is now the ideal villa with full staffing, eclectic decor, and sumptuous cuisine. The epitome of luxury reborn.
Guests' Check-in Experience
On arrival enjoy a cool towel and a refreshing Greensleeves Special created by your personal butler. Partake in scrumptious snacks under the lanai.
What's Nearby
For some well deserved holiday pampering, the villa is close to many luxury stores, restaurants, and bars:
Sea Shed Restaurant – 850m
Pier One – 4.7km
The Fish Pot – 5.4km
Local & Co. – 2.7km
La Baguette Bakery – 3.4km
Limegrove Lifestyle Centre – 4.8km
Life On The Water
While you are here you'll have no shortage of options for beach activities. Explore the island on a private island cruise. Spend a day swimming with the turtles, tropical fish, and sunken pirate ships. You might discover buried treasure! Take in a completely different view of the island from the air on a parasail. Let our Concierge team book your next adventure.
Visit our website to learn more about Greensleeves villa.
Stay in touch, we love to hear from you!
Direct Barbados: 1.246.622.4466
Freephone UK: 0800 0885574
Toll Free US/CND: 1 866 404 9600
Email: experts@blueskyluxury.com
Go back to our website
Find a villa here
Escape to the island of Barbados this Summer and head to one of our top 5 IG Blue Sky Luxury vacation homes. Let our Concierge team make all the arrangements while enjoying sheer relaxation at your Blue Sky Luxury vacation home.
9 Bed | 9.5 Bath | Swimming Pool
Featuring 09 stunning oceanfront bedrooms
Onsite amenities include a games room, fully equipped gym and cinema, spa, and sauna
This villa caters to larger/multi-generational groups as well as discerning couples who like to entertain in style
10 Bed | 10 Bath | Swimming Pool
An enchanting beachfront villa featuring luxury amenities
Rental includes an 18' speedboat equipped for waterskiing, wakeboarding, tubing, and other aquatic excursions!
Share in onsite activities like the state-of-the-art home theatre or the fitness center outfitted with Technogym equipment.
4 Bed | 4 Bath | Beachfront
Situated on the famous Sandy Lane Beach in Barbados
There is a separate self-contained garden cottage
This villa is the perfect choice for families and friends looking for a peaceful holiday
7 Bed | 7 Bath | Swimming Pool
Perched on a coral ridge with unforgettable views of the Caribbean coastline
11-acre estate with a park of mahogany trees amidst mature, lush gardens
The natural lagoon-shaped pool is set on the natural rock cliffside
5 Bed | 5 Bath | Swimming Pool
This villa sits right on the beach taking advantage of exceptional Caribbean Sea views
The ocean-facing patio is the ideal place to watch a spectacular sunset after a relaxing soak in the giant master tub
This Barbados vacation rental makes outdoor relaxation easy
Stay in touch, we love to hear from you!
Direct Barbados: 1.246.622.4466
Freephone UK: 0800 0885574
Toll Free US/CND: 1 866 404 9600
Email: experts@blueskyluxury.com
Go back to our website
Find a villa here

Dear food lovers! This is an official foodie invitation to the Culinary Capital of the Caribbean! We promise you'll rejoice at every step of the culinary journey in Barbados. So, let's get the ball rolling with some of our top Barbados restaurants right now – all certainly bookable by our wonderful Concierge team.
The Tides
While seafood tops the menu at The Tides, everyone is sure to find something to woo their tastebuds. In addition to the truly amazing food, the ambiance is enchanting, setting the perfect mood for the perfect Barbados fine dining experience. Nestle into the Tree House, the Centre Lanai, The Gazebo (with an air condition section) or the Cocktail Lounge and Bar and let your palate be pampered.
Restaurant: The Tides
Mood: Fine Dining
Location: Holetown, St. James
Cuisine: Caribbean, Seafood
Amenities: Valet, lounge, bar
The Cherry on Top: Besides sitting right on the water's edge, there is also a historic charm to the location. The restaurant is housed in a decades-old residence built after the second world war!
Local & Co.
the newest flavours to savour in Barbados are being whipped up at the Local & Co. This new foodie-crush is a rustic-chic restaurant in a beautiful 18th century home in the heart of Speightstown. What's extra special about this restaurant is that its ethos is based on sourcing fresh, organic fare from local and regional farmers and foragers – then transforming them into delectable dishes and products for everyone to enjoy.
Restaurant: Local & Co.
Mood: Farm-to-Table
Location: Speightstown, St. Peter
Cuisine: Local, Caribbean
Amenities: Rum bar, in-house marketplace, beachfront seating
The Cherry on Top: It is perfect for vegans with over 30 vegan options on its menu – including some raw vegan dishes, too!
Sea Shed
Come in beach-loving foodies, we have something especially for you. Sea Shed is one of our favourite beachfront eateries right now. It's quasi-beach club, quasi-contemporary restaurant, but 100% scrumptious food – we can't even begin to do it justice! And, they've proclaimed to be constantly 'switching things up' on their menu, so look out for a different surprise on each visit. So lounge, eat, cheers, repeat – right on the stunning Mullins beach!
Restaurant: Sea Shed
Mood: Beach Chic
Location: Mullins, St. Peter
Cuisine: Caribbean, International
Amenities: Bar, lounge, boutique
The Cherry on Top: You can opt to add the beach to your Sea Shed experience by reserving a table on the sand!
Champers
Champers has been giving casual dining plus first-class – and extremely consistent quality – food for almost three decades. As you get lost in its beautiful décor and location, 'casual' will seem like a misnomer. The south coast staple offers a blend of Barbadian and international fare that continues to make a delicious mark on the Barbados foodie journey.
Restaurant: Champers
Mood: Casual, Business
Location: Rockley, Christ Church
Cuisine: Local, International
Amenities: Bar, beachfront dining
The Cherry on Top: Art lovers rejoice – the restaurant is home to On The Wall art gallery, which effortlessly complements the Champers' journey of the senses!
Worthing Square
If you want several food experiences in one place, our pick of the moment is the newest melting pot of flavours – Worthing Square! This super casual, food truck-esque stop is jam-packed with many cuisines in a relatively small area: Barbadian, Indian, Venezuelan, Trinidadian, Jamaican, Arabian, French, Japanese… just check it out! Although no reservations are necessary, our concierge team can still point you in the right direction and share their favourite Worthing Square haunts!
Location: Worthing Square
Mood: Outdoor Fun
Location: Worthing, Christ Church
Cuisine: Local, Caribbean, International
Amenities: Seating, Bars, Cafes
The Cherry on Top: It's the perfect open-air location for a family outing – and there's something for everyone!
With all that said, our Blue Sky Luxury Concierge team is ready to book you at any of these amazing eateries. And be sure to ask them about more restaurant and culinary options the island has to offer!
Cin Cin!
Stay in touch, we love to hear from you!
Direct Barbados: 1.246.622.4466
Freephone UK: 0800 0885574
Toll Free US/CND: 1 866 404 9600
Email: experts@blueskyluxury.com
Go back to our website
This month's featured vacation home is Sunset Reach! Perfect for family vacations with days spent relaxing by the water. The charming beachfront Barbados villa has recently undergone renovations. The newly built master suite makes this charming beachfront villa a 3 bedroom rental vacation option. Enjoy impressive panoramic views of the vibrant turquoise Caribbean Sea stretching out as far as the eye can see from the master's patio. While to the left is the remarkable Mullins Beach. Take a stroll down the beach to The Sea Shed restaurant, the delectable dishes are sure to entice you back for more.
Click here to book your next stay!
What's Nearby:
East Moon – Authentic Chinese food! Dine-in or call ahead for take-out.
Bombas Beach Bar – Perfect spot for tropical combos of cocktails, stunning sunsets and magical evenings under the stars.
Sea Shed – The beachside atmosphere, a touch of tropical elegance and great food.
Speightstown – Located on the north-west coast. Take a stroll through the city and discover restaurants, churches, shops and much more!
Watch Video On Sunset Reach
Stay in touch, we love to hear from you!
Direct Barbados: 1-246-622-4466
Freephone UK: 0-800-088-5574
Toll Free US/CND: 1-866-404-9600
Email: experts@blueskyluxury.com
Go back to our website
Find a villa here
Let Blue Sky Luxury help you put together 3 flawless steps at the ideal beachfront villa to help your client escape this Winter.
Step one, book the next available stay at Milord Sunsets. Each of the 3 bedrooms is positioned to enjoy views of the turquoise Caribbean waters. The soothing blue vistas will follow you from the white-on-white open-plan living room and dining area. Step two, take advantage of the beachfront plunge pool it's the perfect spot to catch a green flash sunset! Step three, guests will enjoy a home-cooked meal prepared by a private cook/housekeeper. Bon appetit!
Click here to Book Now!
Stay in touch, we love to hear from you!
Direct Barbados: 1-246-622-4466
Freephone UK: 0-800-088-5574
Toll Free US/CND: 1-866-404-9600
Email: experts@blueskyluxury.com
Go back to our website

So, you're planning a Barbados vacation with the family? We're confident you'll have an unforgettable holiday. But we also know what it's like trying to coordinate activities that the whole family will enjoy. Excursions that are fun-filled and kid-friendly, but also stimulating and interesting for the adults. Is that too much to ask for? Don't worry, we've got you covered. You'll be spoiled for choice with things to do in Barbados. So to get you started, here are six Barbados family activities handpicked by the Blue Sky Luxury Concierge Team.
Barbados water sports
For beach lovers, there's a lot more on offer than sandcastles and sun loungers. For action-packed fun, Rascals Water Park has an inflatable obstacle course – a floating playground with slides, jumps, and more. Carlisle Bay is a great place to try paddle boarding and kayaking. Or check out Freights Bay for surf lessons – the easy-going long waves are great for beginners and kids. Why not join a snorkel tour or learn to scuba dive at one of the many dive shops on the island? Our Blue Sky Luxury Concierge Services can recommend and book the best Barbados water sports activities for you and your family.
Harrison's Cave
Grab your hard hats and head underground for one of the island's most spectacular natural features, and a top Barbados family-friendly activity. The interactive tour (aboard an open tram, which the kids will love!) takes you deep into the crystalised limestone cave system that stretches over two kilometers. Discover impressive stalactite and stalagmite formations, flowing streams, deep pools, and even an underground waterfall. Harrison's Cave is a fun and educational experience, and (here's an insider tip!) it's a great activity for those rare rainy days in paradise.
Catamaran Cruise
You're in the Caribbean! So a day on the water is a must and it's one of our top recommendations for things to do in Barbados. There are several companies offering catamaran day cruises on a join-in or private basis. Most offer two snorkel stops with the chance to swim with turtles and explore a shipwreck, followed by a delicious Bajan buffet lunch and a cruise along the iconic Barbados west coast. Just picture yourself sipping on a rum punch, under sail, looking out at the stunning turquoise waters. The Blue Sky Luxury Concierge Services can recommend the best cruise for your family, and make all the arrangements.
St Nicholas Abbey
A national treasure with something for the whole family. The kids will love the ride on the historic steam train that climbs to Cherry Tree Hill with stunning views over the east coast. This is followed by a tour of the great house, rum distillery and of course a rum tasting session for the adults. The estate grounds are expansive and beautiful – lots of room for little ones to explore and run around, and there's a lovely café serving drinks and snacks. Overall St Nicholas Abbey offers a wonderful excursion that ticks all the boxes for a memorable day out for your Barbados vacation.
Animal flower cave
Another 'must do' for Barbados family activities is a visit to this unique natural feature on the wild and rugged north east coast of the island. Animal Flower Cave is named after the sea anemone 'animal flowers' that live in the natural pools, descend the rock staircase into this stunning seaside cave, open to the crashing Atlantic waves on one side. Bring your swimsuit and have a paddle in the beautiful natural pool inside the cave. Be sure to have lunch at the breathtaking ocean-facing restaurant when you return to the ground level. There's a small playground for children, often with inquisitive goats running around!
Welchman Hall Gully
Follow the nature trail deep into this beautiful natural gully which was formed by a collapsed cave system in the centre of Barbados. You can take a guided tour with one of the knowledgeable tour guides, or just enjoy a self-guided visit The path is paved and wheelchair / stroller accessible, so Welchman Hall Gully is a great family-friendly excursion particularly for small children. Our tip is to pack a picnic and take your time. One added bonus is to visit when the monkeys are being fed (usually between 10.30 am and noon).
This is just a flavour of the many things to do in Barbados. Our Blue Sky Luxury Concierge Team is ready to make your Barbados vacation as special as possible with carefully selected activities to match the interests of your family. Priceless memories await!

Stay in touch, we love to hear from you!
Direct Barbados: 1-246-622-4466
Freephone UK: 0-800-088-5574
Toll Free US/CND: 1-866-404-9600
Email: experts@blueskyluxury.com
Go back to our website