The intimate nature of sharing a meal is the perfect atmosphere for new love to blossom, celebrate milestones and enjoy the company of the ones you hold dear.  Set the mood to romance and explore five of the most romantic restaurants in Barbados. What's even better, our Concierge Team can make your reservations for your special occasion. All you have to do is choose which restaurant or how many!
Opened in 1995, The Cliff is world-renowned as the crème de la crème of fine dining in Barbados. Recently redesigned, The Cliff offers an elegant, sophisticated dining experience that will leave you wanting more. One can enjoy an evening, along the platinum coast with the finest dishes as the Caribbean Sea gently washes ashore creating an ambiance perfect for rekindling old flames or sparking new ones…
For those who prefer an intimate dining experience, The Cliff offers private dining to make the unforgettable moments even more memorable. The Cliff is the gift that keeps on giving with The Chef's Beach Table. This dining experience allows you to dine at the water's edge with the opportunity to take an after-dinner stroll along the seashore. We guarantee this will be a night for the ages…
Adult Only 
Dress Code: Strictly Elegant 
Cigar Lounge 
Open Air | Air Conditioned 
Nestled in historic Holetown, the Tides restaurant is set against its classic seaside Barbadian architecture with coral store and mahogany whilst accented with hues of blue that perfectly reflect the water's surface. With three dining areas, plus a cocktail bar & lounge the only question is 'In or Out?'  The Centre Lanai gives you full access to views of the oceanfront for a cosy, chic dining experience. For those who want to stay closely connected to nature, The Tree House is the place for you! This open-air experience has four romantically lit Casuarina trees for that real-life tree house feel.
The Gazebo sits on two levels and is fully air-conditioned with views of the Caribbean Sea. It's the best of both worlds… As you immerse yourself in a culinary experience that will heighten the senses, The Tides Restaurant offers live music that will leave you serenaded and high on life….
Dress Code: Semi-Formal| Elegant 
Kid Friendly 
Valet Parking
Open Air | Air Conditioned 
This elevated dining experience provides panoramic views of The Sandy Lane Country Club, the lush greens and lakes of The Green Monkey Golf Course, and stunning ocean views. Have an early morning with breakfast, whisk that special someone off to lunch, or enjoy cocktails under the canopy for a tranquil, romantic getaway. This picturesque restaurant is perfect for intimate celebrations to add that magical touch.
Dress Code: Casual |Chic 
Kid Friendly 
Valet Parking 
Open Air 
Located on the platinum coast, The Lone Star restaurant is known to be the hideaway spot for celebrities and carries a relaxed dining area. The wooden staircase leads you away from the everyday and into a euphoric evening with only the finest company. Blending European and British cuisine with a Caribbean and Asian influence your dinner will be sure to ignite your tastebuds. 
Be a Sundowner and enjoy a glass of chilled champagne or engage in an intimate breakfast date on the boardwalk. Join an elite group of diners to enjoy a dining experience like no other. 
Dress Code: Semi-Formal | Elegant 
Kid Friendly 
Valet Parking
Open Air 
Journey to the south coast to savour authentic bold flavours, peruse the Art Gallery curated by Vanita Commissiong and create endless memories all against the breath-taking backdrop of the water's edge. The Champers team prides itself on excellent service and comfort by making the restaurant accessible for all diners with the option of dining on the Open Terrace, Gazebo, or the upstairs dining area.  The calming sea breeze, the freshest fruit in the Sangria, and an array of delectable menu options wait for the lunch date for two. 
Hues of purple, blue, and orange radiate across the Open Terrace as the sun sets. The night sky becomes blanketed with stars and you're dining area will be illuminated with lanterns making a perfect candle-night dinner. 
Champers? Just say yes! 
Dress Code: Semi-Formal | Elegant  
Kid Friendly 
Private Parking 
Open Air | Air Conditioned
Stay in touch, we love to hear from you!
Direct Barbados: 1.246.622.4466
Freephone UK: 0800 0885574
Toll Free US/CND: 1 866 404 9600
Email: experts@blueskyluxury.com
Go back to our website
There is nothing like the smell of fresh bacon, eggs benedicts, and boozy mimosas to start your day. If you are a traveling foodie, your search engine is probably filled with several options for your next brunch spot in Barbados. We thought we would make it easy for you and share a few of our favourite spots for you and your family and friends to start your day.
Eco Lifestyle & Lodge
A top pick for brunch spots in Barbados is Eco Lifestyle & Lodge, which features a fantastic menu of farm-to-table cuisine. Every palate will be satisfied by their weekend brunch menu, and vegan options are always available.
Orange Street Grocer
This small casual cafe towards the north of the island has an exceptional brunch menu, with a variety of sweet and savory treats, including pizzas, baguettes, french toast, and local classics. You will enjoy the fresh breeze and fresh juices while there.
Calma Beach Club
Calma Beach Club is a brand new beach club on Barbados' famous West Coast right in the heart of Holetown. Together, the founders have built a place where locals and visitors can congregate and enjoy fresh, delectable food, fantastic cocktails, and large grins while taking in the Caribbean Sea's scenery and listening to the best rhythms.
The Park Cafe
The Park Cafe is a quiet cafe with lovely pond and garden views. They offer great selections for Breakfast or Brunches including their Blueberry Pancakes or renowned Chipotle Chicken Sandwich. Located on the South Coast but nestled away from the hustle and bustle, you'll enjoy this oasis. It is even a great spot for remote work!
The Bliss Cafe
A charming little family-run breakfast restaurant, Bliss Cafe serves grilled paninis, waffles, omelets, and other items. During your stay, you will find yourself thinking of reasons to keep coming back while receiving a good deal. The jerk chicken flatbread and CocoNikki shake are also well-liked menu items. They also house a cute photobooth area, perfect for family photos.

Stay in touch, we love to hear from you!
Direct Barbados: 1.246.622.4466
Freephone UK: 0800 0885574
Toll Free US/CND: 1 866 404 9600
Email: experts@blueskyluxury.com
Go back to our website
It is no secret that Barbados' West Coast has a reputation for great food and impeccable service. Choose formal dining rooms or relaxed beachfront eateries. There is something for everyone. It is a known fact that the staff at Blue Sky Luxury love to eat! We have rounded up five of the best restaurants in Barbados and got candid dining reviews. Check out their list of recommended dishes from the top restaurants in Barbados. We hope our restaurant reviews help you to decide which Barbados West Coast restaurants you need to visit in 2022!
In no particular order, here are the top picks:
Sea Shed
The Lone Star Restaurant
The Tides
Bearded Rose
Baia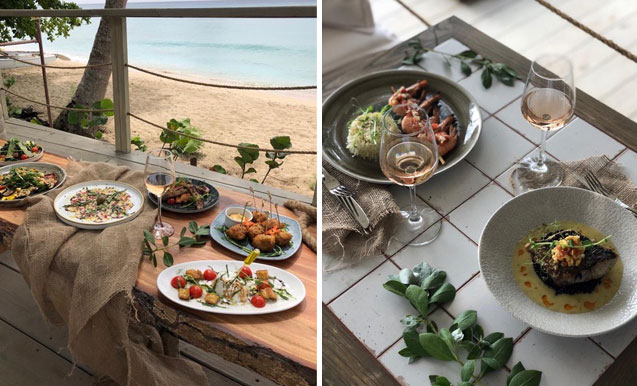 Laissez-fair beach vibe
To start the ball rolling, our Managing Director, Tania, reminisces.
"I absolutely love Sea Shed. It's the perfect blend of a relaxed, beachy atmosphere paired with great meals and bites. I love the Octopus Carpaccio – so beautiful and always fresh!" 
Idyllic setting, celebrity clientele
An obvious favourite, the offerings at Lone Star Restaurant have made their way into many a heart. (We mean stomach.) It is safe to say there were too many to choose just one for this post. The team suggests ordering the Moules Mariniere, Chicken Tikka Masala, Prawn Thai Green Curry, or Shredded Aromatic Duck.
Follow these recommendations and you are definitely in for a treat!
Top fine dining restaurant
"I have personally enjoyed at least two decadent meals at The Tides. Fish has always been a favourite of mine, and the Pan Fried Flying Fish at The Tides does not disappoint. The service as well is worth mentioning. Absolutely impressive!"
This rave review compliments Shernelle, our Concierge Manager, when detailing her experiences at the charming establishment.
Eclectic taste and exceptional cuisine and cocktails
Alexis, our Brand Manager, states in no uncertain terms about The Bearded Rose…
"A must-visit! Welcoming hosts, contemporary decor, and mouthwatering fare were the highlights of my dining experience. The Wagyu Beef Sliders were a trio of magic, second only to the fresh, delectable Yellowfin Tuna Tartare. Would I go back? Absolutely!" (Alexis loves food. We believe her.)
A journey of the senses
Last but not least, this review was submitted to us by Rachel McCartney, Leader of Brokerage at our sister company, Terra Luxury. New hotspot Baia is located in the historic Speightstown.
"It is honestly so refreshing to have a difference in the cuisine in Barbados – as it is Peruvian. The food is consistently good. The Beef Short Rib is melt-in-your-mouth, next-level awesome!"
Which one of these tantalising restaurants would you like to visit? 
Get ready to start planning trips…
Stay in touch, we love to hear from you!
Direct Barbados: 1.246.622.4466
Freephone UK: 0800 0885574
Toll Free US/CND: 1 866 404 9600
Email: experts@blueskyluxury.com
Go back to our website

Dear food lovers! This is an official foodie invitation to the Culinary Capital of the Caribbean! We promise you'll rejoice at every step of the culinary journey in Barbados. So, let's get the ball rolling with some of our top Barbados restaurants right now – all certainly bookable by our wonderful Concierge team.
The Tides
While seafood tops the menu at The Tides, everyone is sure to find something to woo their tastebuds. In addition to the truly amazing food, the ambiance is enchanting, setting the perfect mood for the perfect Barbados fine dining experience. Nestle into the Tree House, the Centre Lanai, The Gazebo (with an air condition section) or the Cocktail Lounge and Bar and let your palate be pampered.
Restaurant: The Tides
Mood: Fine Dining
Location: Holetown, St. James
Cuisine: Caribbean, Seafood
Amenities: Valet, lounge, bar
The Cherry on Top: Besides sitting right on the water's edge, there is also a historic charm to the location. The restaurant is housed in a decades-old residence built after the second world war!
Local & Co.
the newest flavours to savour in Barbados are being whipped up at the Local & Co. This new foodie-crush is a rustic-chic restaurant in a beautiful 18th century home in the heart of Speightstown. What's extra special about this restaurant is that its ethos is based on sourcing fresh, organic fare from local and regional farmers and foragers – then transforming them into delectable dishes and products for everyone to enjoy.
Restaurant: Local & Co.
Mood: Farm-to-Table
Location: Speightstown, St. Peter
Cuisine: Local, Caribbean
Amenities: Rum bar, in-house marketplace, beachfront seating
The Cherry on Top: It is perfect for vegans with over 30 vegan options on its menu – including some raw vegan dishes, too!
Sea Shed
Come in beach-loving foodies, we have something especially for you. Sea Shed is one of our favourite beachfront eateries right now. It's quasi-beach club, quasi-contemporary restaurant, but 100% scrumptious food – we can't even begin to do it justice! And, they've proclaimed to be constantly 'switching things up' on their menu, so look out for a different surprise on each visit. So lounge, eat, cheers, repeat – right on the stunning Mullins beach!
Restaurant: Sea Shed
Mood: Beach Chic
Location: Mullins, St. Peter
Cuisine: Caribbean, International
Amenities: Bar, lounge, boutique
The Cherry on Top: You can opt to add the beach to your Sea Shed experience by reserving a table on the sand!
Champers
Champers has been giving casual dining plus first-class – and extremely consistent quality – food for almost three decades. As you get lost in its beautiful décor and location, 'casual' will seem like a misnomer. The south coast staple offers a blend of Barbadian and international fare that continues to make a delicious mark on the Barbados foodie journey.
Restaurant: Champers
Mood: Casual, Business
Location: Rockley, Christ Church
Cuisine: Local, International
Amenities: Bar, beachfront dining
The Cherry on Top: Art lovers rejoice – the restaurant is home to On The Wall art gallery, which effortlessly complements the Champers' journey of the senses!
Worthing Square
If you want several food experiences in one place, our pick of the moment is the newest melting pot of flavours – Worthing Square! This super casual, food truck-esque stop is jam-packed with many cuisines in a relatively small area: Barbadian, Indian, Venezuelan, Trinidadian, Jamaican, Arabian, French, Japanese… just check it out! Although no reservations are necessary, our concierge team can still point you in the right direction and share their favourite Worthing Square haunts!
Location: Worthing Square
Mood: Outdoor Fun
Location: Worthing, Christ Church
Cuisine: Local, Caribbean, International
Amenities: Seating, Bars, Cafes
The Cherry on Top: It's the perfect open-air location for a family outing – and there's something for everyone!
With all that said, our Blue Sky Luxury Concierge team is ready to book you at any of these amazing eateries. And be sure to ask them about more restaurant and culinary options the island has to offer!
Cin Cin!
Stay in touch, we love to hear from you!
Direct Barbados: 1.246.622.4466
Freephone UK: 0800 0885574
Toll Free US/CND: 1 866 404 9600
Email: experts@blueskyluxury.com
Go back to our website
The Culinary Capital of the Caribbean. To hold this title would be the envy of the region. Yet, through an unspoken understanding, this is what Barbados has been considered for years! With world-class restaurants, international food festivals – namely the coveted Food & Rum Festival – and a local cuisine to keep them coming back, Barbados is a foodie's dream destination!
From street food and rum shops, to fine dining restaurants featuring Indian, Thai, Italian, Brazilian and French cuisine along with amazing contemporary fusions. The Barbados menu is an arresting one, as the island is home to an exciting variety of tastes, cuisines and accompanying ambiances that are somewhat shocking based on its geographical size. The island has its unique blend of international eateries with worldly cuisine juxtaposed with food vans filled to the brim with local fare and goodies. And, regardless of whether it is the former or the latter that draws them, visitors to Barbados' shores embark on a goodie pilgrimage when they arrive, visiting different restaurants every night and coming away with vastly different experiences although the common thread is that the food is always exquisite and warming!
Food in Barbados is quality, and in our business is the villa vacation industry, it plays a decisive role when our guests choose their accommodations. While the island offers a bounty of dining options – from the plushest dining chairs to wooden park benches – the option to experience fine food in the comfort of your own villa is at your disposal. Therefore, when choosing a villa many foodie guests pay careful attention to what is available at the holiday home they will be staying at. Many guests are keen to learn and will ask for recipes, a cooking class or even a tour of the market. So, opt to have a chef on hand to create whatever suits your food mood, and rest assured that our culinary team has extensive experience in creating specialty meals such as vegan dishes, kosher meals and so on. To cap it all off, our Concierge team can rustle up masterful sommeliers to pair wines with any meal your heart desires.
But, for those who dare to don an apron and spatula during their stay, feel free to cook up a storm alongside our chefs – or alone – in a kitchen best equipped to your mastery level. Shown below are our top 4 picks villas with the best gourmet kitchens. And, to add even more charm to the foodie experience in Barbados, venture to the local markets, butcher shops and other suppliers while guided by the knowledgeable chefs and cooks on hand.
Stay in touch, we love to hear from you!
Direct Barbados: 1.246.622.4466
Freephone UK: 0800 0885574
Toll Free US/CND: 1 866 404 9600
Email: experts@blueskyluxury.com
Go back to our website
Find a villa here